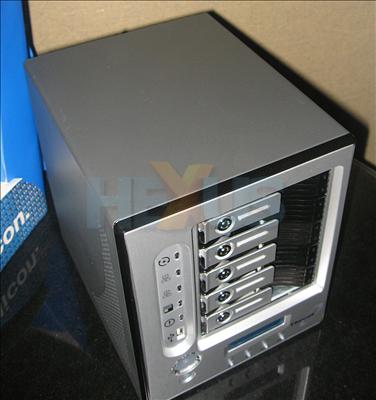 Thecus continues with its 'world's first' theme with the newly-introduced D5100 DAS (Direct-Attached Storage) box.

The D5100 is a 5-bay DAS that supports RAID6. Whereas RAID5 - the usual low-cost method of ensuring reliability - uses a single parity block, RAID6 utilises two, meaning that an array can withstand two concurrent drive failures before the RAID cannot be rebuilt. The disadvantage lies with the amount of capacity that's required to be set aside, which can be considerable in a limited-drive scenario.

5 drives can hold up to a nominal 5TB, and the D5100 provides RAID0,1 5,6,10 and JBOD functions. eSATA and USB.2.0 ports provide the external connectivity options and the management interface carries GigE RJ45 and Serial ports - the latter for UPS support.

There's also built-in event notification and the LCD screen - right at the bottom - is useful for determining the current status and providing basic configuration access. As you'd expect, the D5100 is equipped with RAID management for RAID expansion and migration.