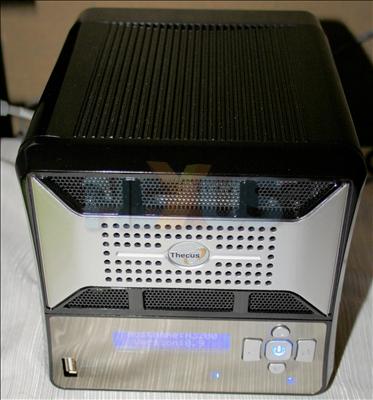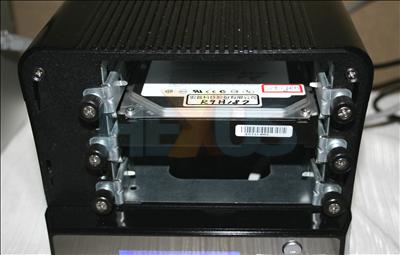 Thecus launched the N3200 at COMPUTEX 2007 and claims it to be the world's first 'home' NAS (Network-Attached Storage) with built-in RAID5 support.

Being RAID5-capable, the N3200 ships in a (necessary) 3-bay configuration and accepts standard 3.5in SATA drives. The drop-down cover highlights the drive positioning and, on closer inspection, we see that access is a simple case of removing the thumbscrews and sliding the drive out, pre-mounted on rails.

The N3200 also features a single eSATA, 2 USB2.0 and 2 GigE ports. All the usual file protocols are present, too, and the N3200 can function as an iTunes, photo, and media server - the norm with the latest iteration of Thecus products. We wonder if the first batch will be bundled with Mediabolic's server software.

The well-built unit also features an LCD display that serves as a basic configuration interface, as well as a status tool.

RAID0, 1, 5, JBOD modes are supported, of course, so just strap in 3 1TB drives and away you go - security and performance. No word on pricing or availability, but we'll update this article as soon as those are made available by Thecus.