At the end of July Intel and Micron surprised industry watchers by announcing that they had not just invented but had started production of a new class of non-volatile memory, many times faster and denser than NAND. Based upon a technology called 3D XPoint, the new chips use a transistor-less cross point architecture in a three dimensional checkerboard configuration. The memory cell density, enhanced interconnectivity and addressability greatly boosts read/write processes and the chips also consume less power and are cheaper to make, said Intel. Intel and Micron's new memory tech would bring "game-changing performance to memory and storage solutions," according to a senior Intel exec.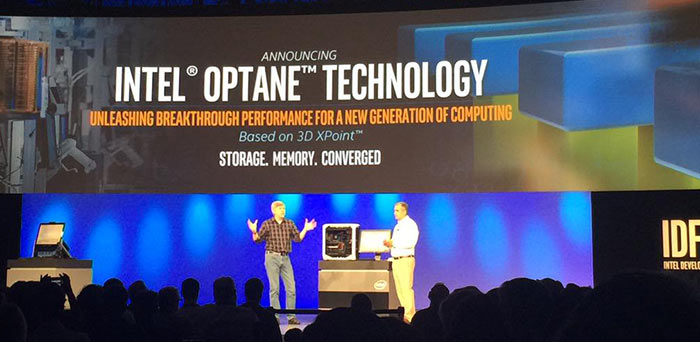 Now, as promised, Intel has provided an update about its 3D XPoint plans. Earlier today, during the Intel keynote address at IDF 2015, CEO Brian Krzanich unveiled that the first brand to make use its breakthrough storage technology would be called Optane. From 2016 Intel Optane technology products will become available, starting with high-performance Intel SSDs, followed by a new line of DIMMs designed for Intel's next-generation data centre platforms.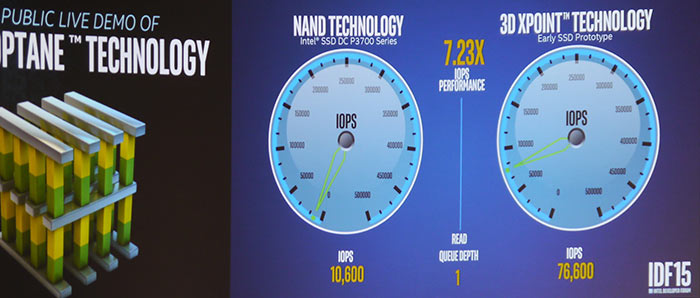 An early prototype of an Intel Optane PCIe SSD was demoed on stage. The Optane SSD was run in a brief benchmark session against a high end Intel P3700 SSD, also a PCIe device. As you can see from the embedded image, above, the Intel Optane drive's performance trounced the older challenger. Depending upon the read queue depth the new Optane drive beat the P3700 by between 5x and 7x in IOPS performance.
The upcoming Intel Optane DIMMs could be used to boost the bandwidth and lower latencies in Intel Xeon systems, perhaps making the first steps towards enabling entirely new applications requiring big data processing which is out of reach of many of today's such systems.