Transcend has announced the StoreJet 35T3 external hard drive. This sleek, black 3.5-inch device will be offered in 3TB, 4TB and a roomy 8TB capacity. Whatever capacity you choose, the drive offers a SuperSpeed USB 3.0 interface which "delivers real-world transfer rates of up to 200 MB/s".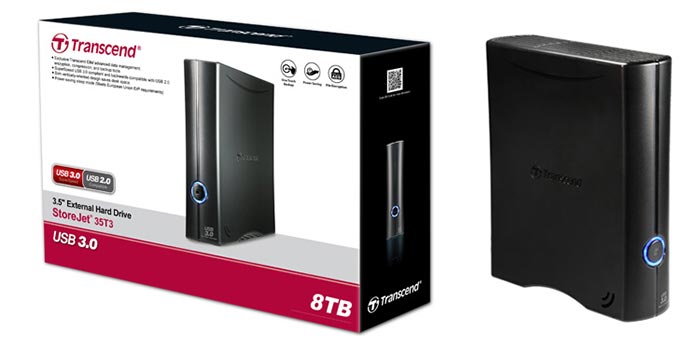 As with many external storage solutions Transcend's new StoreJet 35T3 offers up a number of features to make things convenient for the end user. Beyond the fast interface, which is said to be capable of transferring an entire 4.7GB DVD movie in a mere 24 seconds, Transcend offers quick backup functions. A "unique" One Touch auto-backup button is encircled by a blue LED light on the front of the unit. For data security the device offers 256-bit AES file and folder encryption. (Both auto-backup and encryption require the Transcend Elite software to be installed).
Other features of the StoreJet 35T3 range include the following:
Dimensions of 172.4mm x 152.4mm × 44.8mm, weight of 1040g
USB 3.0 with USB 2.0 backwards compatibility connection options
Quick Reconnect Button – re-enable safely removed USB hard drive without unplug and reinsert
Slim vertically-oriented design saves desk space
Fanless low-noise operation
Power-saving sleep mode (Meets European Union ErP requirements)
Powered via 2V/2A switching adapter (included)
USB data cable included
3 year warranty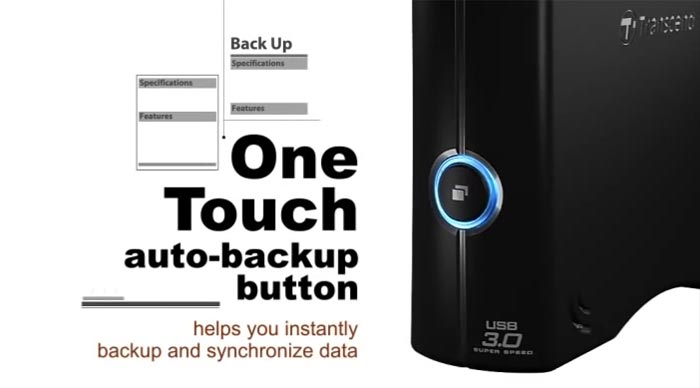 According to Tom's Hardware the StoreJet 35T3 3 TB, 4 TB, and 8 TB external hard drives are priced at $159, $209 and $409 respectively. As the 8TB version costs less than the bare HGST Ultrastar He8 HDD it is thought that the HDD equipped in this drive must be Seagate's Archive 8TB HDD, as it is the only alternative at this capacity.
The Seagate Archive drive uses utilizes SMR (Shingled Magnetic Recording), where tracks slightly overlap, like roofing tiles, to provide greater density without making the data tracks too thin. This design has been observed to impact random write performance. If the Transcend does indeed use the Archive 8TB HDD it would seem overpriced at $409, as Seagate's own Backup Plus 8 TB model is quite a bit cheaper, it can be found for under $250.