Samsung's 840 EVO SSD range were among the most impressive consumer SSDs on the market when they were first released in 2013, boasting super fast speeds at a relatively low cost per GB. Unfortunately, some users started to experience performance issues which dragged down the drive's read performance from the claimed 520MBps maximum speeds to a poor sub-100MBps speed region.

Samsung managed to identify the cause of the problem and supposedly fixed the 'bug' with a firmware update issued in October. However, users of some patched drives have been reporting that their SSDs are once again starting to suffer retrograde performance, even though the patch should have solved the issue permanently.
"In October, Samsung released a tool to address a slowdown in 840 EVO Sequential Read speeds reported by a small number of users after not using their drive for an extended period of time. This tool effectively and immediately returned the drive's performance to normal levels," the Korean tech giant said in an emailed statement to tech site AnandTech. "We understand that some users are experiencing the slowdown again. While we continue to look into the issue, Samsung will release an updated version of the Samsung SSD Magician software in March that will include a performance restoration tool."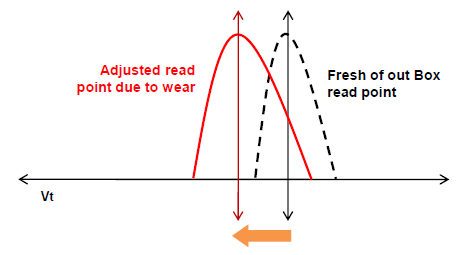 Illustrative graph from AnandTech
Samsung previously stated that the performance issue was a result of a combination of normal NAND cell degradation and an issue with NAND management, however, the company has not stated at this point what the root cause of the latest issue is. AnandTech suspects that the cause is likely a continuation of the original issue, though on the upside, the Samsung still believes that it can be corrected.
It is probably worth noting that the performance issues have been isolated to the 840 EVO range alone, so owners of the newer Samsung 850 Pro and 850 EVO SSDs shouldn't have to worry about being affected in the future.
If you are a Samsung 840 EVO SSD owner, or have suffered noticeable slowdowns over time with any other SSD brand, please share your experiences in the comments below.