Storage solutions company Western Digital has today introduced the My Passport Pro, the first portable, Thunderbolt-powered dual-drive which operates without the need for an AC adapter or any extra cables.
The new WD dual-drive features user-selectable RAID functionality and is sold in 2TB and 4TB capacities. RAID 0 data striping mode allows the drive to perform at maximum speed and capacity whilst those who are after double-safe extra protection can utilise its RAID 1 mirror mode.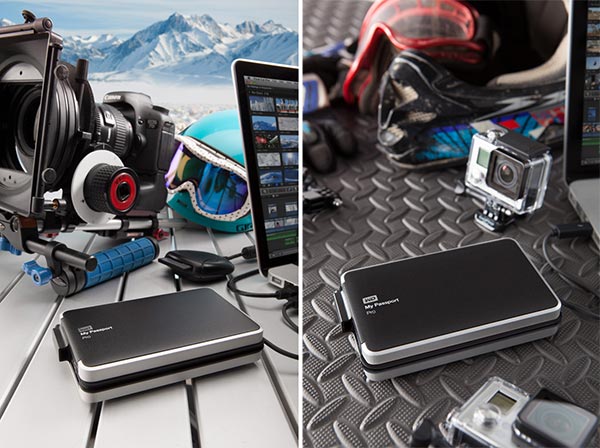 How WD imagines you'll use the WD My Passport Pro
WD says that the My Passport Pro's aluminium outer casing provides durability and shock tolerance for long-term reliability when working on the go. The drive is said to deliver transfer rates up to 233MB/s on the 2TB model and 230MB/s on the 4TB model. It is powered directly through the Thunderbolt port on your computer with its integrated cable tethered to the drive.
"The only Thunderbolt dual-drive solution that's bus-powered, WD's My Passport Pro enhances the workflow of mobile creative professionals by providing fast transfers and data protection for the large amounts of digital content they generate outside the studio," said Jim Welsh, executive VP of branded products and worldwide sales, WD. "From photographers, videographers and musicians to graphic designers and architects, people who depend on portable storage for their livelihood will find My Passport Pro defines a new level of performance, reliability and especially portability."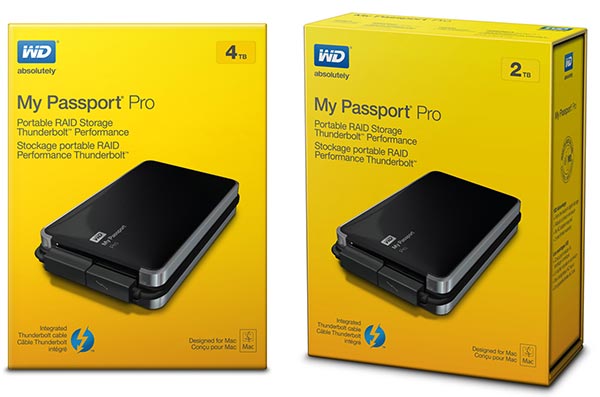 Designed for Mac
With My Passport Pro shipping preformatted HFS+ J for Mac OS Mavericks and Mountain Lion, the drive also integrates with Apple Time Machine to backup data. Thunderbolt hasn't really taken off on PCs; here on HEXUS we have only reviewed two Thunderbolt PC products so far. Also the interface seems to have dropped out of favour with at least one major PC manufacturer as Acer stopped offering computers with Thunderbolt last summer.
WD's new Thunderbolt-powered portable dual-drives will be available immediately through major electronics retailers and the Apple Store. The 2TB drive is priced at £299 inc VAT and the 4TB drive is £409 inc VAT direct from the WD Store in the UK.

The 4TB drive is quite a bit more chunky, the difference is not shown in the previous boxed image