Storage solution provider ACard has laid claim to having an all purpose, standalone CD/DVD backup solution.
To you and me, that's a DVD duplicator. They have a 1 to 1 version, that does backups from one DVD to another, and a 1 to (up to) 21 model.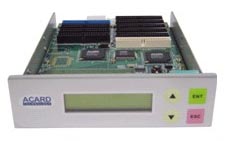 ACard say it's widely compatible with a range of DVD burners, including SATA and USB. It can duplicate at up to 16x and features an LCD screen with an easy to use interface, with no PC required. However, a PC can be hooked up for use of ACard's burning program along with all the burners you've hooked up to the device.
They reckon that their RISC based solution is the best available, and can copy data, audio and video CD/DVDs without any issues... sounds like a dream, if you want to make 21 of the same DVD at once. Now I wonder when anyone might want to do that...?