Thecus N5200 NAS – Built in Processing – First Look

The Thecus stand featured the very latest addition to their range; the brand new N5200 NAS solution had a little trick up its sleeve. The chassis itself is the usual quality that we have seen from past Thecus devices, and the usual 2.5GB SATA connected storage capability is there with the N5200, but now it has its own processing power to boot.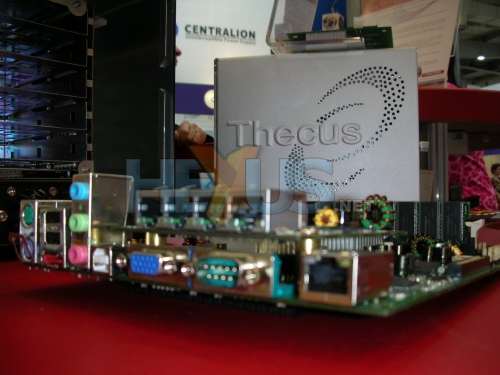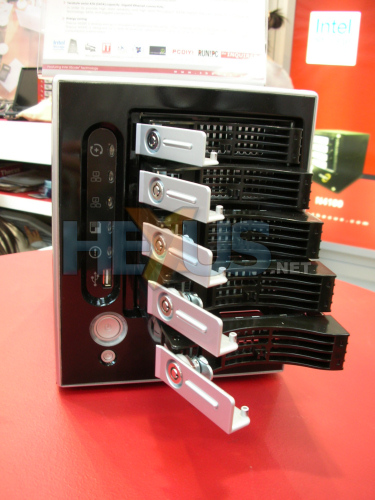 Inside the N5200 is a specifically-developed mainboard featuring a Celeron M CPU as well as one memory DIMM. On the underside of the mainboard is a socket for the proprietary card that Thecus has implemented to allow device connectivity within its chassis.

The 5 SATA connectors within the N5200 allow RAID 0,1,5 or JBOD configuration and its own built in RAID management application software includes many features such as RAID level migration, RAID expansion, RAID quick start, Auto rebuild, HOT Swap, Hot Spare, Disk Roaming and many more.




Reminding you of that really irritating boy band of the past, the N5200 also has something called Nsync, which allows users to automatically synchronise files to an external storage device via the FTP protocol at a time that suits the user, surely a foolproof backup solution for business?

The N5200 series is due to ship in two flavours, firstly the N5200 will come with dual Gigabit Ethernet ports as well as an eSATA connection or alternatively the N5210 will ship with one gigabit Ethernet port and a built in 4 port switch. Whichever model buyers choose you can also install a USB Wi/Fi dongle to give wireless access to the N5200 series chassis.

The sample we saw at CeBIT was not final, to the extent that Thecus has yet to make the decision as to what ports will remain on the mainboard when it reaches production, as the board in the chassis at the show was fundamentally a standard mini ITX mainboard and certain functionality just isn't needed in this type of device.

Expect more information on this as soon as we can get a sample in for review at HEXUS towers.