The SSD market is a competitive place, and after some early success, Intel has fallen behind the pace of drives powered by the exceptional SandForce SF-1200 controller. According to details obtained by Anandtech, though, the company is preparing a refresh of its drives that will bring it right back into the running.
Double down
The memory in the new drives will be made by IMFT and based on a 25nm process . This joint venture between Intel and Micron is, among other things, developing triple-level cell (TLC) flash chips that will provide higher-densities and lower priced memory. In fact, the source estimates that capacities will approximately double without an increase in price.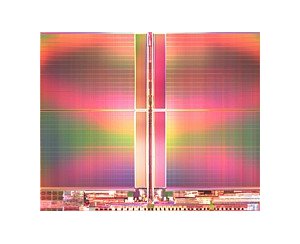 The controller is also getting an update and should be capable of 250MBps and 170MBps for sequential reads and writes, while random 4k write-performance will get a boost up to 40,000 IOPS. This is a major improvement over the last generation, with sequential-write performance increasing by 70 per cent. The interface will still be SATA 3Gbps, but at these speeds, it shouldn't provide any sort of bottleneck.
This all comes with an increase in capacity that will see the drives spanning from 80GB to 600GB at the top of the range. Lifespan has also been improved, approximately quadrupling the total number of random writes before failure.
In addition, Intel is thought to have implemented a power-safe write cache that will prevent data-loss in case of power failure.
Keeping up with the Joneses
Performance may not quite be on par with current-gen SandForce-based drives, but Intel's advantage will come in the cost-per-gigabyte. The new high-density memory is expected to drive prices down and make low-capacity boot-drives more affordable. However, with 60GB drives using other (faster) controllers currently retailing for under £100 and new controllers from SandForce and Indilinix expected in the near future, Intel's new drives are likely to face stiff competition.
Third generation drives from Intel are expected to be available in 1.8in and 2.5in form-factors at either the end of this year or the beginning of 2011.