Solid-state drives may offer incredible speeds, but for the most part, the cost of admission is prohibitively high. According to market-research firm iSuppli, though, prices are set to drop dramatically towards the end of this year to as little as $1/GB (£0.64).
A big driving force in the decreasing cost of NAND is said to be the abundant availability of triple-level-cell (TLC) chips, which allow for higher storage-densities than SLC and MLC memory. This could lead to flash memory being cheaper than it has been since the end of 2008, following which NAND saw a dramatic price increase to over $2 per GB at the end of last year.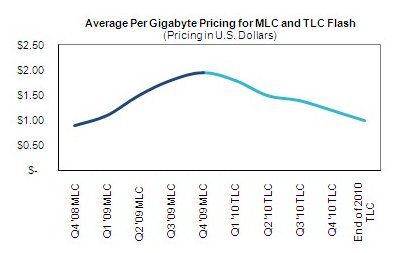 Hopefully these shifts in the market price will make their way to consumers, making smaller SSDs affordable to the masses and higher-capacity models more than just a pipedream. If the predictions come to pass, we could see 32GB and 40GB drives costing less than £50 for the first time.
However, senior analyst Michael Yang thinks it may be too little, too late, commenting that "traditional HDDs gained a lot of additional ground during the past few years in terms of rising capacity and falling prices. In fact, HDDs have gained so much ground that SSDs now are in danger of never regaining their competitive footing".
With capacity continuing to increase, it's unlikely that hard drives will be disappearing any time soon, but as prices fall, SSDs will start to look more and more attractive.
How cheap will SSDs have to get before you will be convinced to take the plunge? Let us know in the HEXUS.community forums.