High-capacity hard disks are becoming cheaper by the day, but high-performance SSDs remain out of reach for most consumers.
We've seen various attempts at marrying the two formats, but it looks as though Seagate may have nailed it.
The storage specialist - who launched its first hard disk two decades ago - is inviting the world to tune in to a webcast next Wednesday to witness the launch of a so-called "game-changing device".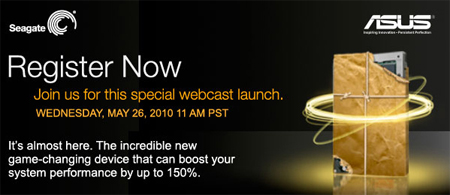 Said device is thought to be the Momentus XT Hybrid, a 2.5in storage device that features both traditional hard-disk platters and 4GB of SLC NAND Flash memory.
Using Seagate's own Adaptive Memory, we're told the drive "learns about its user to dynamically decrease disk time, boot time, and application load time". The drive is most likely to achieve those results by using proprietary algorithms to monitor disk activity, ensuring that regularly-accessed files are stored on the quicker Flash portion of the drive.
How well it fares during real-world usage is anyone's guess at this point, but Seagate reckons "the technology inside is insane". Adding that "it could boost system performance by up to 150 per cent".
The hybrid Momentus XT is rumoured to be launching in 250GB, 320GB and 500GB flavours, with the latter already appearing at UK retailers priced at around £107. Should the pricing prove to be accurate, the Momentus XT would be positioned at around £40 more than a 2.5in 500GB hard disk, or some £220 less than a 160GB Intel SSD.
Seagate will be joined at its launch event by ASUS technical marketing manager Gary Key, who is expected to unveil a gaming notebook equipped with Seagate's new drive.