Intel has this week officially announced the introduction of its value-series solid-state drive, the X25-V.
The 2.5in SATA drive, pictured below, has already been available to customers for a number of weeks and aims to offer a lower-cost alternative to Intel's existing X25-M series.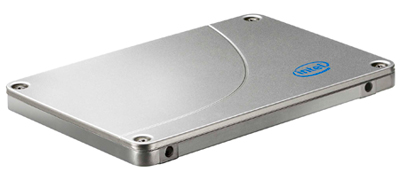 Priced at $125 for 1,000-unit quantities in the US, the X25-V is the company's cheapest SSD to date and offers 40GB of storage capacity - making it ideal for a boot drive, says Intel.
Joining the lower storage capacity is reduced performance potential, with Intel quoting sustained sequential read and write speeds of up to 170MB/s and 35MB/s, respectively.
Built using Intel's 34nm MLC NAND Flash memory, the drive aims to bring the benefits of solid-state storage - namely a major speed boost compared to traditional hard drives, as well as lower noise, heat and power consumption - to users on a budget.
Intel's announcement comes just days after rival manufacturer OCZ introduced its own "affordable" SSD - the sub-£75 Onyx.
"Adding the Intel X25-V to our existing family of high-performance SSDs gives our resellers a full range of high-performing, quality SSDs for notebook upgrades, dual-drive desktop set ups or embedded applications," said Pete Hazen, director of marketing for the Intel NAND Solutions Group.
"SSD adoption continues to be one of the more exciting trends in personal computing, and this entry-level product enables users to enjoy the productivity and performance benefits of Intel SSDs at a new price point."
The drive features Intel's proprietary controller and offers support for Windows 7's TRIM command. Pricing for the X25-V starts at around £90 for UK consumers.