We've been impressed by Kingston's recent solid-state drive solutions, and with the company touting faster speeds and larger capacities with its second-gen offering, we're understandably intrigued.
Kingston's second-gen SSDNow V+ drives, launched today, range in capacities from 64GB up to a sizable 512GB and promise read and write speeds of 230MB/s and 180MB/s, respectively.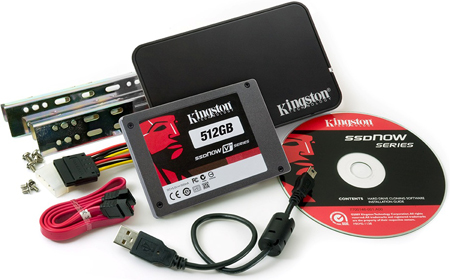 End users will be happy to hear that Kingston's latest feature Windows 7 TRIM support to help main performance through time, but there's bad news for existing customers - the company's previous-generation SSDNow V+ drives are now listed as discontinued and are highly unlikely to be granted TRIM functionality via firmware updates.
As for the new drives, we've yet to see any real-world performance figures, but Kingston's internal testing on the 512GB SSDNow V+ model returned a Windows 7 PCMark Vantage score of 28,264. That's almost nine times the score of a 7,200rpm hard disk.
But then, we know SSDs are where the performance is at. Question is, how much will Kingston's latest set you back? Well, you're looking at around £162 for the smallest 64GB model, and £1,196 for the largest 512GB solution.
As with its recent offerings, Kingston will continue to offer its SSDNow line as standalone drives or bundles. The latter, available at an additional premium, consists of cloning software, a 2.5in USB enclosure, 2.5in to 3.5in mounting brackets, SATA cables and the drive itself.
Kingston's complete second-gen SSDNow V+ series shapes up as follows:
| Part Number | Capacity and Features | MSRP (excl. VAT) |
| --- | --- | --- |
| SNVP325-S2/64GB | 64GB 2.5in SATA SSD (drive only) | £138.43 |
| SNVP325-S2/128GB | 128GB 2.5in SATA SSD (drive only) | £264.93 |
| SNVP325-S2/256GB | 256GB 2.5in SATA SSD (drive only) | £513.16 |
| SNVP325-S2/512GB | 512GB 2.5in SATA SSD (drive only) | £1018.37 |
| SNVP325-S2B/64GB | 64GB 2.5in SATA SSD (bundle) | £146.39 |
| SNVP325-S2B/128GB | 128GB 2.5in SATA SSD (bundle) | £272.89 |
| SNVP325-S2B/256GB | 256GB 2.5in SATA SSD (bundle) | £521.12 |
| SNVP325-S2B/512GB | 512GB 2.5in SATA SSD (bundle) | £1026.32 |