Thecus' N8800 2U rackmount NAS server looked pretty formidable when it made its debut in November 2008, but there's always room for improvement. Back in August 2009, Thecus introduced an upgraded model dubbed the N8800SAS - adding in support for SAS (Serial Attached SCSI) hard disks, a quicker processor and more memory.
Today, it's at it again with the introduction of the N8800PRO. The latest model, pictured below, is essentially the N8800SAS with a few added extras. An Intel Core 2 Duo processor resides at the unit's heart, and there's now 4GB of DDR2 memory - double the quantity available in its predecessor.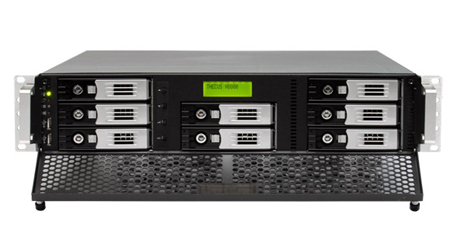 Thecus reckons the upgraded hardware will provide a performance boost of over 15 per cent, and the N8800PRO's speed credentials can be further enhanced via third-party extras. The unit now ships with a PCIe x8 slot, allowing users to install an optional 10Gb Ethernet adaptor for "lightning-fast file transfers".
There's no word on pricing just yet, but the original N8800 and N8800SAS are available from SCAN.co.uk* priced at £1,138.47 and £1,491.77, respectively.
Want to know more? The N8800PRO's complete specification can be found at Thecus.com
*As always, UK-based HEXUS.community discussion forum members will benefit from the SCAN2HEXUS Free Shipping initiative, which will save you a further few pounds plus also top-notch, priority customer service and technical support backed up by the SCANcare@HEXUS forum.