Knowing that Kingston Digital believes solid-state drives (SSDs) are for acceleration, not storage, we're not surprised to find that the company's latest solid-state offering is an entry-level 40GB addition to its SSDNow V Series.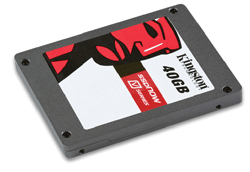 The drive (pictured right), is part of Kingston's "Value" range and its branding might have you thinking it's just a smaller-capacity derivative of the relatively-lacklustre 64GB SSDNow V Series drive that we reviewed back in September.
Fortunately, that's anything but the case, as this latest addition is both faster and cheaper than its predecessor. Whilst the original SSDNow V Series range features a JMicron controller, this new 40GB model is based on Intel's second-generation controller and 34nm NAND Flash technology.
The result is sequential read and write speeds of up to 170MB/s and 40MB/s, respectively. Granted, that still pales in comparison to today's high-end SSDs, but Kingston reckons its "40GB Accelerator Drive" will speed up open and close times of everyday applications "by almost 4 times over existing regular desktops hard-disk drives".
Not a bad little upgrade when you factor in near-silent operation, improved reliability and lower power usage, too. But the real kicker here has to be the price - Kingston will ship the standalone drive on November 9th with an MSRP of £71.27. A desktop bundle - featuring cloning software, 2.5in to 3.5in brackets and SATA data and power cables - will also be available priced at £75.27.
It's plenty sufficient for a system drive (Microsoft recommends 20GB of hard disk space for a 64-bit install of Windows 7), and it's one of the most affordable SSD entry routes we've ever seen. Want our verdict before you buy? Stay tuned as an in-depth HEXUS review is coming soon.
In the mean time, here's Kingston's official specification for the drive:
Sequential Speed*: up to 170MB/sec. read, 40MB/sec. write
Performance: enhances productivity; makes users more efficient
Innovative: 2.5" form factor; uses NAND Flash memory components
Silent: runs silent and cool with no moving parts
Reliable: less likely to fail than a standard hard drive
Shock Resistant: no moving parts; handles rougher conditions than a hard drive
Supports S.M.A.R.T.: Self-Monitoring, Analysis and Reporting Technology
Guaranteed: three-year Kingston warranty, 24/7 tech support
Capacity**: 40GB
Storage temperatures: -40° C to 85° C
Operating temperatures: 0° C to 70° C
Vibration operating: 2.17G (7-800Hz)
Vibration non-operating: 20G (20-2000Hz)
Power specs: Active: 0.15W (TYP); Sleep: 0.06W
Life expectancy: 1 million hours MTBF
*Based on internal testing. Performance may vary based on system settings.
**Some of the listed capacity is used for formatting and other functions and thus is not available for data storage.