Enterprising attitude
Kingston, the memory-module manufacturer, says its SSD focus is squarely set on the enterprise market and explains that the firm is pushing the somewhat expensive devices as performance upgrades and system accelerators rather than storage solutions.
When it comes to SSD strategy, "we keep it as simple as possible," said Kingston's Mark Leathem, a director of business development and product marketing, who has been with the firm for 17 years.
Kingston already boasts four separate lines of products in its SSD category - with E, M, V and V+ series. The E-series is billed as having "Ultimate Performance and Highest IOPS for Servers, Workstations and SAS Storage Arrays", whilst the M Series offers "Elite Performance in Notebooks, Desktops and Workstations." That's not entirely surprising considering they're based on Intel's high-performance models.
The V+ Series, is touted as offering "High Performance in Notebooks, Desktops and workstations" (depending on workload) whilst the lowest class of Kingston SSD's, the V-series is specifically aimed at the value market segment for notebooks and desktops. We took a look at both drives in earlier reviews, powered by JMicron (V) and Samsung (V+) controllers.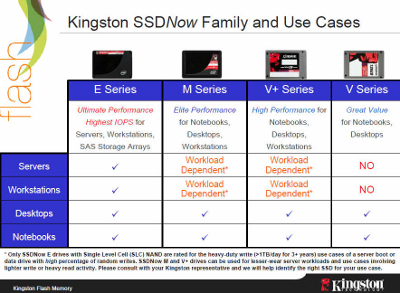 "Kingston is offering a huge, huge breadth of price," Leathem told HEXUS adding, "in terms of performance four [product] lines is pretty good...we may add a fifth line sometime in the future, but four pretty much covers the market.
And the SSD market Kingston most covets is, unsurprisingly, the high-margin enterprise segment. "It's our main focus," Leathem confirmed.
The firm is currently pursuing a strategy which sees it putting thousands of SSDs into the hands of what it refers to as "IT influencers" - employees from various firms who could potentially persuade the rest of their organization to make the switch to SSDs. This year alone, Kingston said it had handed out between 6,000-8,000 drives in the hopes of winning over some of the big fish in the corporate pond.