Still salivating over the ridiculously-fast Super Talent RAIDDrive we mentioned earlier today? Well, if you don't want to wait until October for Super Talent's drives to ship, OCZ reckons you don't have to and has today announced the availability of its own PCI-e based storage solution, the Z-Drive.
We've seen the drive in various guises before, but OCZ's final retail design is far more simplistic in terms of appearance.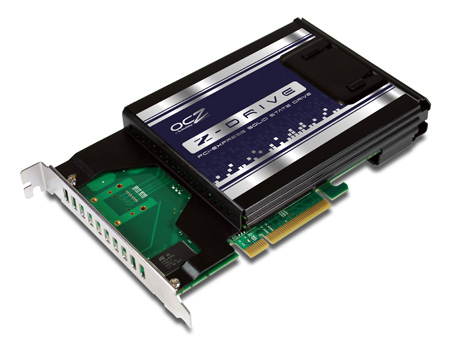 Don't let its aesthetics distract from what it actually is, though. Like competing solutions, what you're looking at is a collection of solid state drives configured in a RAID array and housed on a PCIe card that interfaces with a system via a PCIe x8 slot, negating the bandwidth restrictions of current and next-gen SATA.
OCZ's implementation is available in capacities ranging from 256GB to 1TB, with the top-end model delivering read and write speeds of 870MB/s and 780MB/s, respectively. On paper, that isn't as outrageous as the Super Talent RAIDDrive, but it's outrageous nonetheless.
Aiming for the enterprise market, Ryan Petersen, CEO of OCZ claims "traditional enterprise storage technology typically requires overly complex infrastructure as well costly maintenance, and is often unable to deliver the level of performance required by OEM applications."
"The new OCZ Z-Drive is an all-in-one high performance plug-and-play bootable PCIe solid state drive that addresses these challenges head on, and meets the demands of the complete range of enterprise storage and data access requirements. The Z-Drive is designed not only to be higher performing and more reliable than conventional solutions, but also to significantly reduce both the maintenance and overall TCO for our clients," he adds.
Thinking about picking one up? We've yet to come across any UK listings, but Amazon US currently has the Z-Drive priced at around $1,560 for a 256GB drive and $3,370 for the ranging-topping 1TB model. Here's the complete range of both MLC-based and SLC-based Z-Drive models:
Z-Drive e84
Z-Drive p84
Interface
PCIe x8
PCIe x8
PCIe x8
PCIe x8
PCIe x8
Form Factor
PCIe
PCIe
PCIe
PCIe
PCIe
Capacity
256GB
512GB
256GB
512GB
1TB
NAND Flash
SLC
SLC
MLC
MLC
MLC
Cache
256MB
256MB
256MB
256MB
256MB
Performance
Max Read
800MB/s
800+MB/s
770MB/s
870MB/s
870MB/s
Max Write
750MB/s
750+MB/s
640MB/s
760MB/s
780MB/s
Max IOPs (4k random)
16,000
16,000
10,000
10,000
10,000
MTBF
900,000 hrs
900,000 hrs
900,000 hrs
900,000 hrs
900,000 hrs
Dimensions (mm)
195 x 32 x 127
195 x 32 x 127
195 x 32 x 127
195 x 32 x 127
195 x 32 x 127