We're still a long way from seeing solid-state drives compete with traditional hard-disk drives in terms of price per gigabyte, but the launch of Western Digital's Scorpio Blue 1TB - the world's largest 2.5in drive - raises a few interesting questions.
First and foremost, the drive itself measures 12.5mm in height due to its capacity, and finds itself too thick for the majority of existing notebooks - many of which use the traditional 69.85mm x 100mm x 9.5mm form factor. Consequently, the drive is being initially marketed as an external mobile storage solution and has first surfaced as the 1TB My Passport Essential SE, priced at €205 (approximately £177).
And it's that price tag that has caught our eye. Although expectedly pricey, Western Digital's 1TB 2.5in drive is priced in the same bracket as Intel's all-new 34nm SSD - that's currently available from SCAN.co.uk at a cost of £171.12.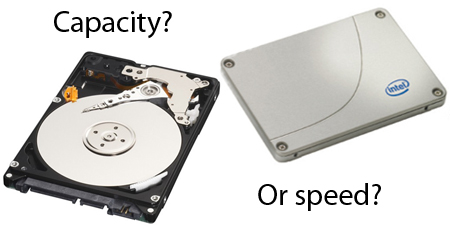 Looking ahead at upcoming notebooks, and observing that the cost per gigabyte for an SSD is falling, are you more likely to opt for the high capacity of say a 1TB hard drive, or would you opt for the benefits of an SSD despite its relatively tiny storage room?
Let us know what you think in the HEXUS.community forums. Is overall capacity still vital in a portable device, or does performance matter most?