Kingston is today continuing with its relentless mission to expand the storage capacity of USB flash drives with the launch of its 256GB DataTraveler 300.
The monster-capacity drive, pictured below, measures 70.68mm x 16.90mm x 21.99mm and features a cap-less design that Kingston reckons will protect the USB connector when not in use.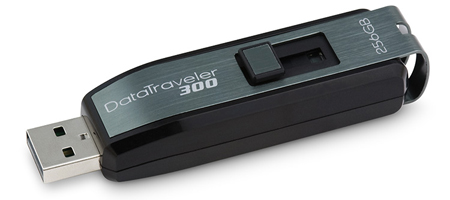 To give you an idea of how quickly these drives are growing in capacity, Kingston launched a 64GB model back in November 2008 and followed up with a 128GB drive just last month.
The DataTraveler 300 - now the world's first 256GB USB flash drive - offers read and write speeds of up to 20MB/s and 10MB/s, respectively, and is bundled with Password Traveler security software to help protect data.
Kingston's backing the drive with a five-year warranty, but, as you might have guessed, the drive won't come cheap. Kingston tells us each DataTraveler 300 will be built to order, and customers can place orders now for around £650 including VAT.