Synology is on hand at COMPUTEX '09 to showcase its upcoming Disk Station Manager 2.2 software and its 9-series NAS units. We'll start with one of the latter - the DS409slim, a four-bay NAS unit that utilises 2.5in hot-swappable drive bays to create a compact design that should, in theory, be quieter and less power hungry.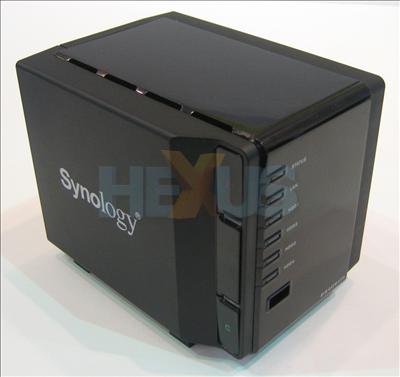 Although a release date remains unknown, Synology has confirmed that the DS409slim is cooled by a single fan that spins up only when temperatures reach a certain point - ensuring as much quietness as possible.
Inside, there's a 1.2GHz processor coupled with 128MB of memory, and a wide selection of Synology's NAS functionality - including scheduled power on/off, network surveillance and the ability to act as a media/iTunes server.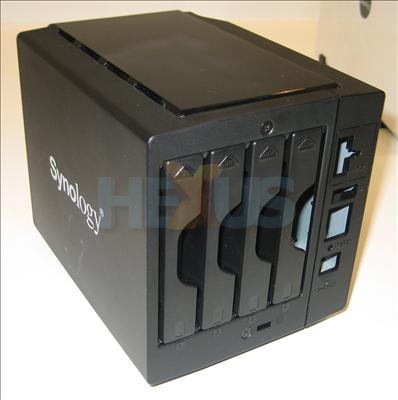 Round the back, we find Gigabit Ethernet, eSATA and USB connectivity, in addition to a second USB port at the front. What's interesting, we reckon, is the Disk Station Manager 2.2 software that Synology has on show. It'll be released as a beta in July, with plans for a final launch in September.
Disk Station Manager 2.2 is expected to support all of Synology's Disk Station NAS units, and introduces the following new features:
iSCSI target support
Apple iPhone support - including streaming of photos, music and files
Apple Time Machine support
DLNA compliant media server
Built-in firewall
New Surveillance Station 2
New Download Station 2
NTFS write on external drive
System resource monitor
The iPhone integration, in particular, is well implemented. Synology plans to launch music and photo streaming applications on the iPhone App Store, making them available free of charge to its Disk Station users. We found wireless streaming of music from the NAS to be very quick, and Synology's app retains the iPhone's simplicity making it very easy to use. Certainly worth keeping an eye out for the upcoming beta, we feel.