When we first saw OCZ's Z-Drive at this year's CeBIT show, a 1TB SSD, made up of four 256GB drives in RAID0, all housed in a graphics-card like enclosure and interfacing with the system via a PCI-Express x16 slot, we thought it was style over substance, designed to woo the crowds and press. Who would come to market with a drive like that?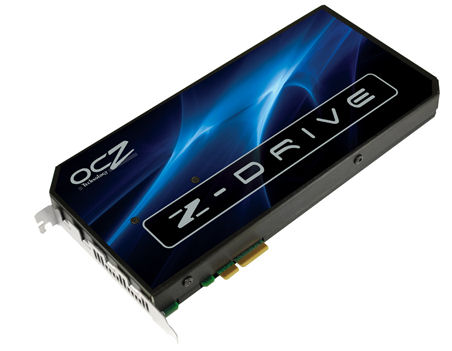 The answer is OCZ, of course. The drives will be presented in much the same form-factor as we saw at CeBIT, hooking up to the system via a PCIe x4 link, to mitigate any potential bandwidth bottlenecks that may occur via a regular SATA interface.

Internally, the drive features a 256MB cache and, obviously, on-board RAID controller that straps the SSD together. It's cooled by a small fan on the back and the drive measures 245mm x 124mm x 22mm (WxDxH).


| Drive | Read speed (max) | Write speed (max) | Sustained write speed | Expected price |
| --- | --- | --- | --- | --- |
| 250GB | 450MB/s | 450MB/s | 200MB/s | £950 |
| 500GB | 510MB/s | 480MB/s | 200MB/s | £1,450 |
| 1,000GB | 500MB/s | 480MB/s | 200MB/s | £2,250 |

The blistering 700MB/s read and 500MB/s write speed of the CeBIT drive is nowhere to be seen, intimating the use of cheaper OCZ SSDs inside. The ouch comes in the form of price, reckoned to be just shy of a grand for the 250GB model and rising, inexorably, to £2,250 for the 1TB monster.

Other multi-SSD-drive options may be cheaper, but we don't think it really matters what price the Z-Drive comes in at, frankly, because its job is to raise awareness of the brand as a halo product, and it does that pretty well. Who is going to buy one then?

Manufacturer's link