Corsair went and opened the flood gates with its 64GB Flash Voyager at the back end of September. We've since had Super Talent launch a 64GB Luxio drive and Patriot Memory is today joining the party with its 64GB Xporter Magnum USB flash drive.
The 64GB Xporter Magnum, pictured below, comes in a basic-looking two-tone housing and claims itself to be the fastest 64GB USB flash drive on the market.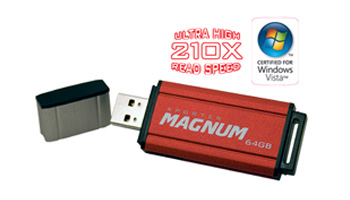 There's no mention of bundled security software for drive encryption, and no word on pricing, either. A wider range of 64GB drives on the market, though, should lower prices all round.
Official press release: Patriot Memory Announces Xporter Magnum 64GB USB Flash Drive