We all fancy a solid-state drive, but sky-high prices are keeping them at bay. Last month at COMPUTEX, we spotted a 120GiB SSD from Super Talent priced at $639 - the cheapest we'd seen, by a long way.
Today, OCZ Technology has taken the mantle of cheapest SSDs with the launch of its Core Series. The drive, pictured below, will be available in 32GiB, 64GiB and 128GiB models, priced at $169, $259 and $479, respectively.
There's no UK pricing just yet, but a basic conversion puts the 128GiB drive at a very useful £250. Tasty.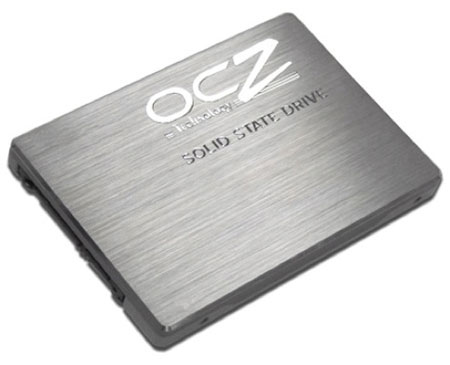 The SATA II drive, which looks a lot like the Samsung offering, doesn't offer the best SSD specification available. Its 120-143Mbps is some way behind Samsung's 200Mbps, but OCZ promises performance "40 per cent faster on a read/write basis than the best performing 2.5in HDDs on the market, all while consuming 50 per cent less power."
Performance and power consumption aside, the impressively low price is the biggest selling point.
Ryan Petersen, CEO of OCZ Technology, said:
SSDs offer higher performance, reliability, and energy efficiency than conventional HDDs but the cost variance has limited adoption of vastly superior SSD technology, until now. It is our mission to deliver the highest performance products to consumers at reasonable prices, and with the release of the Core Series SSDs we have done exactly that.
The Core Series provide a 1.5 million-hour mean time before failure, and are backed by a two-year OCZ warranty. There's no word on availability just yet, but we'll be keeping an eye out for these.
Official press release: OCZ Technology Announces Core Series SATA II 2.5 Solid State Drive