Taiwanese electronic component maker Phison, well known for its I/O controllers, revealed its new PS2251-17 (U17) at Computex earlier this month. The one-chip solution is designed to be an attractive solution to external / portable SSD designers, facilitating sequential transfer rates up to 1300MB/s with such devices. That figure shows a good uplift from the performance of USB SSDs featuring the USB 3.2 Gen 2 interface, for example.
Tech site AnandTech reports that the pioneering Phison PS2251-17 (U17) is a USB 3.2 Gen 2x2 controller for external SSDs. HEXUS news has previously covered how this interface maxes out at 20Gbps, twice the speed of the USB 3.2 Gen 2 interface.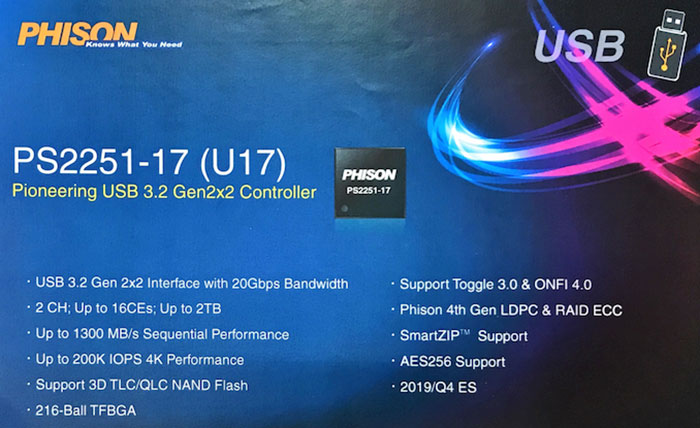 Describing the new PS2251-17 controller, the source writes that it "features two NAND channels with 16 CEs that support modern types of flash, including 3D TLC and 3D QLC NAND, with Toggle 3.0 or ONFI 4.0 interfaces." In further details we learn that "The chip also supports Phison's 4th Gen implementation of LDPC and RAID-based ECC, SmartZIP technology, AES256, and other features." Much of this is basically covered by the bullet points on the slide shared by Phison at Computex (see above).
In Phison's own performance tests, SSDs using the PS2251-17 controller delivered up to 1300 MB/s sequential read/write speeds, as well as up to 200K IOPS. Real world performance could of course deviate from these figures, deepending upon implementation and other components chosen by the device makers, especially the NAND chips.
If you are interested in high-performance external storage solutions, Phison says it will start sampling the new controller in Q4 this year, with retail devices expected to follow next year.