We're quite fond of Thecus' N5200 series of high performance NAS boxes, and we've detailed exactly why in our N5200 and N5200 Pro reviews.
What makes the product that little bit sweeter, though, is Thecus' trend of keeping existing products up to date through the implementation of new firmware and software updates. This time around, we're getting network camera functionality on the N5200 series of products.
According to Thecus, a few simple configuration steps, and of course a camera or two, are all that's needed in ordered to setup your own surveillance system. Still images from up to five cameras are then stored in the NAS and compressed into MPEG format for easy viewing.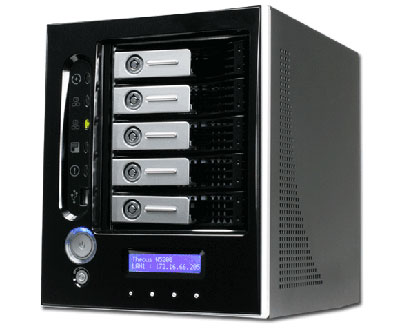 At present, the list of supported cameras is a little scarce, you'll need one of the following in order for it to work:
Afreey ANC-818G
Axis 207
SparkLan CAS-370W
Panasonic BL-C10
Vivotek PT-7137
Thecus believes the added functionality provides a low-cost but effective alternative to otherwise costly surveillance systems for home users. We're curious to know, however, just how many users actually have a surveillance system at home? Are you keeping an eye on things inside your own house? Let us know in the HEXUS forums.
Official press release: Thecus N5200 Series Brings Surveillance to Property Owners with Network Camera Functionality