Seagate has updated its Exos X series of enterprise hard drives with a new helium-based 16TB model, dubbed the Exos X16 for short. This HAMR tech HDD storage device is designed to deliver high performance and record capacity for hyperscale data centres with efficiency and cost-effectiveness. In related news the company also updated the IronWolf and IronWolf Pro NAS drive lines with new 16TB capacity models.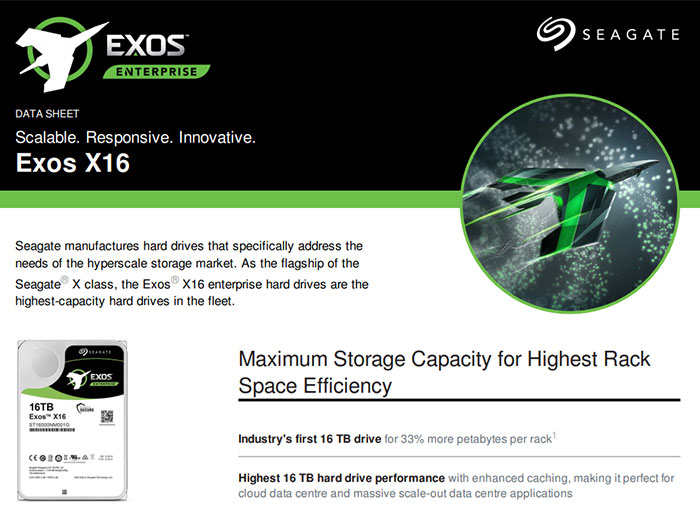 With the ever growing amount of data created, captured or replicated across the globe, Seagate puts forward its latest Exos X16 hard drives as part of the solution for hyperscale, data centre, OEM and distribution channel businesses. Seagate quotes a statement from early adopter, Tencent Cloud, which said that the new HDDs are used in its Cloud solution, "significantly improving its storage density and performance, while cutting down the cost".
Key qualities of the Exos X16 include:
Stores up to 12.8PB in a 42U rack with helium technology
Leading sustained data rate 261MB/s
Random write of 440 IOPS
Reduced complexity with FastFormat
Reduced TCO with low weight of 670g and 0.31W/TB
MTBF of 2.5m hours
550TB/yr - 10× the workload rating of desktop drives
Seagate Secure encryption technology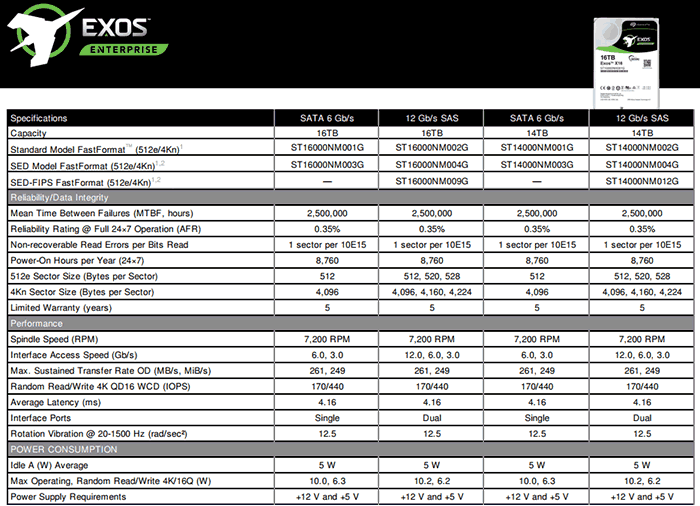 Seagate is making five versions of the Exos X16 16TB drive, but confusingly has five other Exos X16 SKUs boasting a lesser 14TB of storage. Among the permutations, shown in the table above, you will find drives with different interfaces (SATA, SAS) and various encryption options (Standard, SED, and SED-FIPS).
According to the official press release, the new Exos X 16TB helium-based enterprise HDDs are available immediately and have an MSRP of $629. Buyers get a limited warranty of 5 years.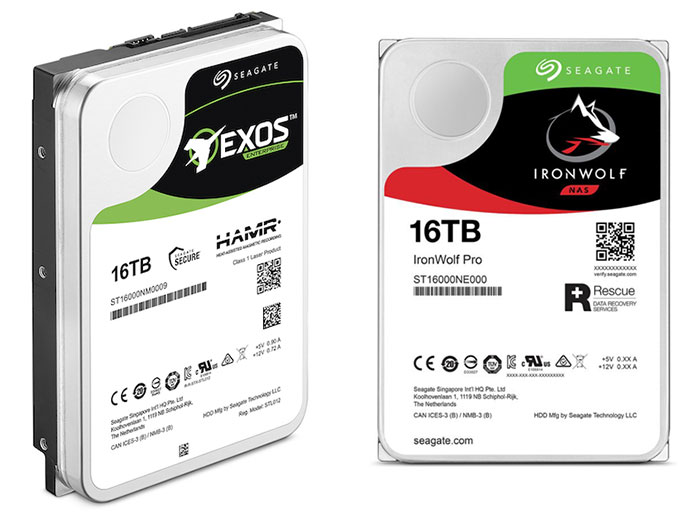 The new Seagate IronWolf and IronWolf Pro NAS drives also now offer capacities up to 16TB. These drives are designed for multiuser NAS environments and workloads up to 300TB/year with an appealing blend of performance, low noise and low power consumption. It appears that the linked page hasn't been updated for the new higher capacity drives at the time of writing.