Samsung has launched a new portable storage solution. The Samsung Portable SSD X5 is the company's first NVMe-based portable solid state drive (SSD) and will be made available in capacities ranging from 500GB, and 1TB, to 2TB. Thanks to its speedy components and Thunderbolt 3 connectivity this drive can perform up to four times faster than a USB 3.1 portable flash storage device.
"As a leader in high-performance and reliable storage solutions, we are thrilled to continue to advance the external SSD market with the introduction of our first Thunderbolt 3 portable SSD," said Dr. Mike Mang, VP of Brand Product Marketing, Memory Business at Samsung Electronics. "The X5 is yet another testament to Samsung's commitment to providing innovative portable storage solutions that enable faster transfer of large data files, saving users' valuable time".

That's enough talking about speed, let's get to some figures. Samsung claims that thanks to Thunderbolt 3's 40Gbps bandwidth the X5 can offer read speeds of up to 2,800 MB/s, "which is up to 5.2 times faster than the widely used SATA interface portable SSDs and up to 25.5 times faster than external HDDs". For write speeds you are looking at up to 2,300 MB/s, "enabling users to transfer a 20GB-sized 4K UHD video in just 12 seconds," suggests Samsung.
Security and durability are also important qualities of portable storage devices and Samsung claims that the X5 is a winner on both counts. For data security Samsung offers its own software with AES 256-bit hardware data encryption, including optional password protection and easy configuration of security settings (Windows and Mac, but not Android). The X5 sounds rather rugged with its full metal body, and shock resistant inner frame. This construction results in the device being able to withstand accidental drops from as high as 2m. Fast NVMe drives are well known for generating heat, so Samsung has implemented its Dynamic Thermal Guard technology and a heat sink for reliability and optimal performance. Users get a three year warranty.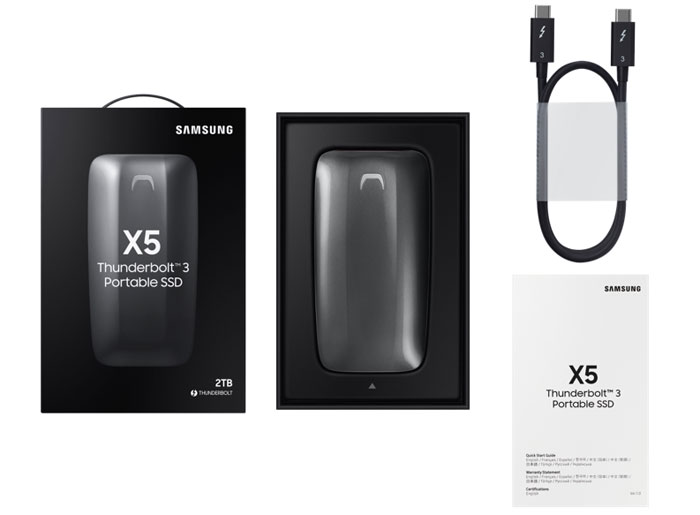 The linked press release contains availability and US pricing as follows; 3rd September availability worldwide, priced from $399.99 for the 500GB model, $699.99 for the 1TB model and $1,399.99 for the 2TB model. In an email to HEXUS, Samsung said the UK pricing would be £359.99 for the 500GB model, £629.99 for the 1TB model and £1,249.99 for the 2TB model.