Nimbus Data has announced its ExaDrive DC100 SSD with 100TB capacity. This breathtaking amount of storage, equivalent to approx 20,000 DVDs, is three times more than that offered by its closest competitor. Furthermore, the ExaDrive DC100 is said to draw 85 per cent less power per TB than its bumper capacity rivals.
Looking more closely at the proposition, the Nimbus Data ExaDrive DC100 is a 3.5-inch format drive (like a traditional desktop HDD) sporting a SATA interface. Nimbus says it is plug-and-play compatible with hundreds of storage and server platforms. The California-based company uses 3D flash NAND from an unnamed vendor in these drives.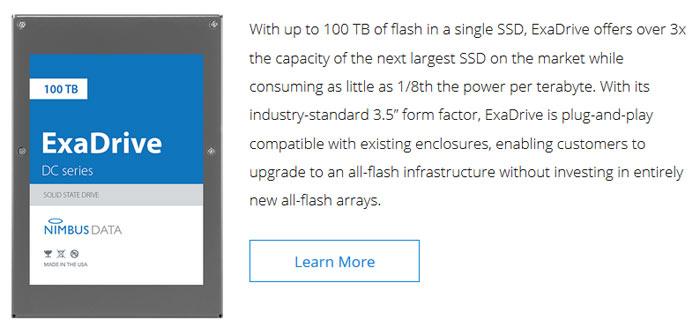 Nimbus claims that the DC100 achieves up to 100,000 IOPs (read or write) and up to 500MBps throughput. This is ideal for "a wide range of workloads, from big data and machine learning to rich content and cloud infrastructure," suggests the company, indicating its target markets.
Business users will also be attracted by the claimed power efficiency and durability. Nimbus says the DC100 consumes just 0.1 watts per TB, making it a good choice for edge and IoT applications. Over a five year operating period this will make the Nimbus Data ExaDrive DC series cost 42 per cent less compared to existing enterprise SSDs claims the firm.
An MTBF figure of 2.5 million hours is quoted. Nimbus eschews drive-writes-per-day clauses in its warranty and provides an unlimited endurance guarantee for 5 years. Other welcome features are the encryption, multiple ECC processors, and a secure-erase feature ensures data security, plus embedded capacitors help minimise data loss due to sudden power losses.
The Nimbus Data ExaDrive DC series will include both the 100TB model highlighted above and a 50TB model. General availability is pencilled in for summer 2018. Pricing guidance isn't available at the time of writing.