Elegant looks, reasonable price
Western Digital's My Passport Essential range today joins its already popular line-up of Passport drives. Featuring a sleek black styling, the My Passport Essential drives are designed to complement Western Digital's range of My Book external drives.
Available in 160GB, 250GB and 320GB capacities, the drives weigh less than 5 ounces and are small enough to carry in a pocket. The drives are USB powered and require no external power adaptor. They'll also come complete with WD Sync, a software package allowing you to sync items with a Windows PC and encrypt files that aren't suitable for viewing by any eyes other than your own.
Available now, the 320GB model carries an MSRP of $199.99. We don't know yet how that'll equate to pounds, but it seems a very tidy price for a very tidy-looking drive.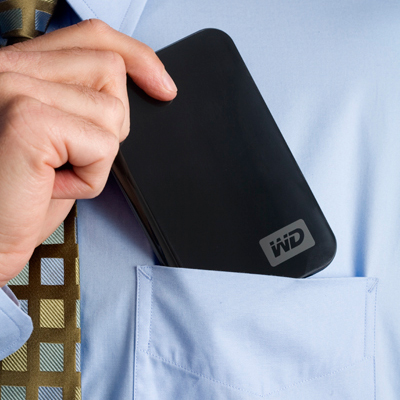 Key Features
Simply Elegant - Combine a beautiful new gloss-black case that fits smoothly in your hand and pocket with mega-capacity for all your digital content and the world's most popular portable drive just got better than ever.
Easy - Installation is a snap because you don't really "install" this drive; you just plug it in and it's ready to use. There is no CD to install; the included software loads from the drive the first time you plug it in.
Smart - Powered by the USB bus. No separate power supply is needed.
Big capacity that fits in your pocket - This compact drive fits easily in your pocket or purse, weighs only a few ounces and with capacities up to 320 GB, you can take tons of photos, videos, files and music with you wherever you go.
Synchronised and secure - WD Sync™ synchronisation and encryption software lets you take your critical data with you. Plug My Passport into any PC, edit files, read e-mail, and view photos. Then sync all of your changes back to your home or office computer. Your data is protected with 128-bit encryption. (Windows only)
Includes Google™ software - Search your drive, manage your photos, and simplify Web searches with included Google software. (Windows only)
Compatible - Use with Windows® and Macintosh® computers
Official press release: WD® PUTS ELEGANCE INTO PORTABLE STORAGE; INTRODUCES NEW MY PASSPORT™ ESSENTIAL™ USB HARD DRIVES
Official product page: WesternDigital.com