Cloud storage data centre company Backblaze has just published its review of 2017, with regard to hard drive reliability and related stats. The company ended the year with 93,240 HDDs in operation; that's 1,935 boot drives, and 91,305 data drives. Since 2013 the company has been monitoring and reviewing reliability of the HDDs it uses and it has periodically, and generously, shared its findings for 2017 a couple of days ago via its official blog.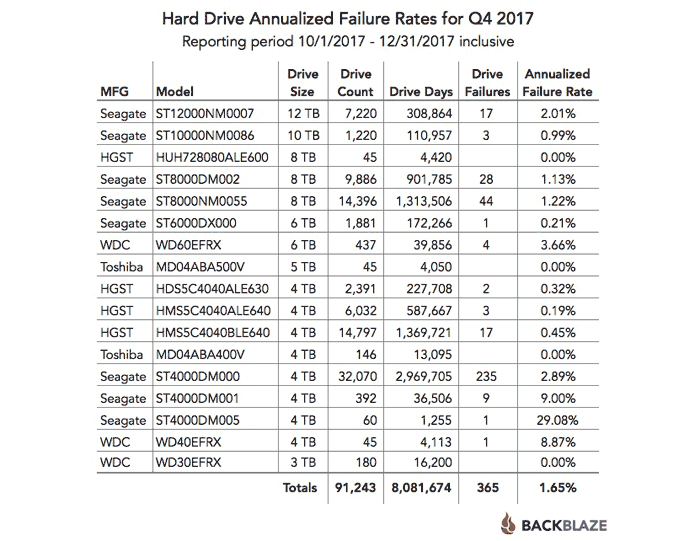 Above you can see Backblaze's Hard Drive Annualised Failure Rates (AFR) for the most recent quarter. You will note that the AFR figures vary widely and Backblaze admits the figures can be volatile, "especially for models that have a small number of drives and/or a small number of drive days". For example the Seagate 4 TB drive, model ST4000DM005, has a annualized failure rate of 29.08 per cent, "but that is based on only 1,255 drive days and 1 (one) drive failure". On the other side of this volatility an 8TB HGST drive looks to offer enviable reliability, for example.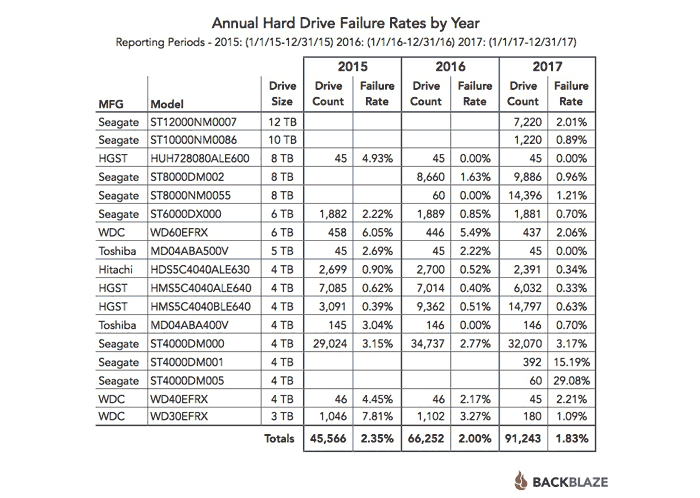 Backblaze has put together a longer term chart which is good to see as most of us expect an HDD to last many years. Above you can see annualised failure rates by year for 2015, 2016 and 2017. Weighing up this data Backblaze notes that 6TB Seagate and WDC models seem to be getting more reliable. The cloud storage company is most impressed, however, by its HGST/Hitachi 4 TB models, which delivered sub 1 per cent failure rates for each of the three years. These drives are "amazing," gushed the Backblaze blog.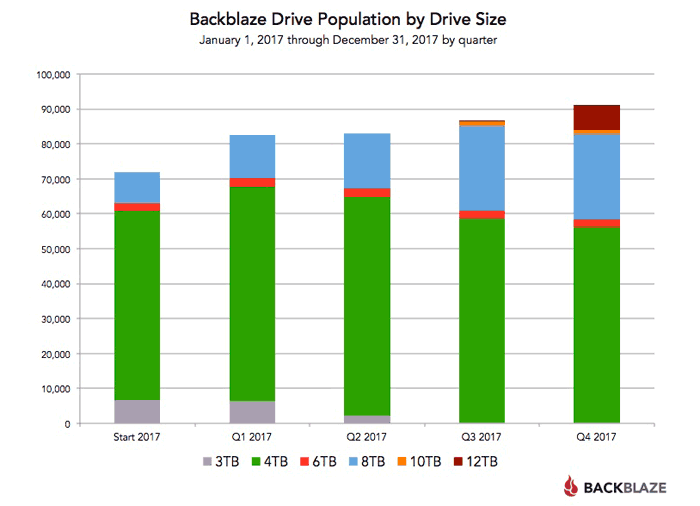 Last year Backblaze significantly skewed the HDD capacity mix it employs. At the start of the year there were six or seven thousand 3TB HDDs in its servers. By the end of the year there were none but it had gained about the same number of 12TB HDDs and significantly "bulked up" on 8TB devices.
If you find the above facts and figures particularly interesting Backblaze is presenting a webinar 'Backblaze Hard Drive Stats for 2017' on Thursday 9th February, 2018 at 10:00 Pacific time. If you take part you will witness the Backblaze team dig deeper into quarterly, yearly, and lifetime hard drive stats – and more.