Stacked NAS added to N5200 PRO and 1U4500
Continuing its trend of keeping existing products up to date through the implementation of new firmware and software updates, Thecus has announced that a selection of its existing NAS products will now feature new functionality in the form of Stacked NAS and IP Cam.
Stacked NAS, allowing users to stack up to six NAS units together and have them work together and appear as one NAS unit brings increased expandability to Thecus' N5200 PRO and 1U4500 products. In order to make such a setup easy to administer, Thecus state that each slave unit can also be monitored independently through one single master NAS unit.
IP Cam, a simple surveillance system, is designed to allow users to plug in a compatible IP Cam and have their NAS devices send snapshots to a specified e-mail account. How's that for added security and peace of mind? IP Cam functionality has been added to Thecus' N5200 Pro and N5200.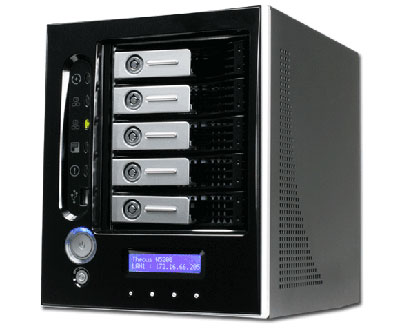 Florence Shih, General Manager of Thecus said:
"At Thecus, we believe that a little ingenuity can go a long way. By providing frequent updates for our loyal users, we can be sure that Thecus users are getting the absolute best value for their hard earned dollar. I encourage everyone to stay tuned as more Thecus innovations are yet to come!"
Bravo Florence, we love the new features, keep 'em coming.
Official press release: Thecus Introduces Two New Product Features