Mike Muller, ARM chief technology officer and co-founder, keynoted the annual TechCon conference by describing ARM's vision on the nascent Internet of Things (IoT) industry. IoT, if you don't know, revolves around making regular devices smart by integrating sensors that are connected to the cloud. Smart lighting, clever fridges, activity trackers, and medication dispensers are a few examples of current implementations of IoT. Depending on who you talk to, the IoT market will encapsulate up to 30 billion devices by 2020.
But having, potentially, billions of IoT devices manufactured by different companies and running different operating systems can lead to compatibility and time-to-market concerns. To this end, Muller announced the ARM mbed IoT Device Platform, designed to enable connected, secure and simple IoT products based on the ARM Cortex-M architecture. Unlike the Cortex-A series processors that run with flavours of Linux (Android) or iOS, Cortex M chips don't have that OS standardisation luxury.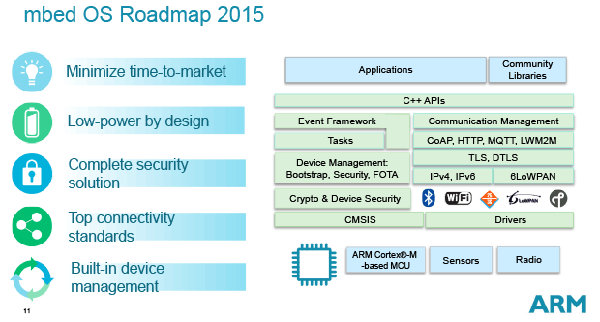 The major part of the IoT Device Platform is the free-to-use mbed OS. Muller says the event-driven operating system announced today but due to be released in a year's time, enables device manufacturers and developers to fast-track designs by not having to worry about core requirements such as security, device management and low-power operation. With baked-in support for these building blocks, ARM believes mbed OS will make it easier for makers to get their IoT products to market. mbed OS will run inside the Cortex-M processors and takes up less than 256KB of memory.
Loading...
Been waiting a while?
Get Flash
to see this player.
Zach Shelby explains how and why the mbed OS makes sense for developers
The question of why ARM would go to the lengths of creating a free-to-use software layer is readily answered by the advantages it brings. More Cortex-M-based IoT devices means more revenue for ARM via the established licensing model. ARM hopes that a simple OS will encourage more makers to try their hand at designing IoT devices, too.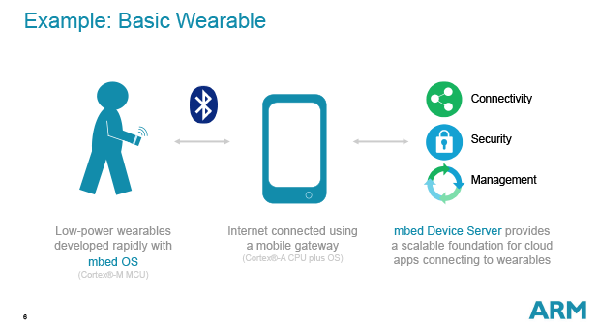 mbed OS is the free part. A second part of the IoT Device Platform is the mbed Device Server, which is set to run on bigger chips. To be used as bridge between the billions of IoT devices and web services, the paid-for Device Server provides management of the clients.
ARM isn't the only company pushing free-to-use building blocks for small chips. Intel's maker-orientated Edison development chip runs Yocto Linux 1.6. The point here is, like the competition, to encourage developers and makers to use their ecosystem. mbed OS is a means by expanding the reach of the Cortex-M for IoT-type products.