The newly released Mozilla Firefox 20 has a bevy of new features to enhance functionality and give you more control over your privacy. The old download manager has been revamped in the way that it works and in its appearance; it is now part of the Firefox Library. Eleven security advisories were also patched up.
If you check your Firefox version now you will be offered the update to version 20 (unless, of course, you've updated it already). That's what just happened to me. So what new features and fixes do you get with the update?
Private browsing
The Mozilla Blog thinks the most important change is the way that private browsing has been enhanced. It's been made more convenient. The new private browsing functionality "allows you to open a new private browsing window without closing or changing your current browsing session". No longer will you have to abruptly interrupt your current browsing session to open a private browsing window. As it has no "windows" Firefox for Android supports private browsing "on a per tab basis" making it easy to switch between private and standard tabs in your browsing session.
I noticed that, on my Windows system, Firefox wouldn't allow me to move the private browsing window to a tab within my current browsing session.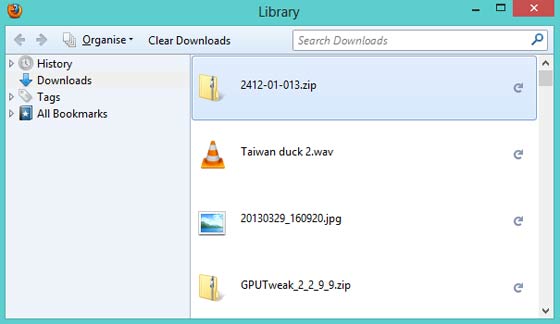 Download manager
The appearance and behaviour of the download manager has also undergone a big change. The downloads list has been folded into the Firefox Library and is managed alongside other history, tags and bookmarks. Depending on your config you don't have to open the downloads window (CTRL-J) or switch to it, there is a dedicated download arrow near the address bar which also shows a handy (but small) progress bar to give you a rough idea of your download status.
Firefox for Android
As already mentioned, the private browsing feature is a big update for the Android version of Firefox. Mozilla has also put in efforts to allow more Android users experience their mobile browser. Less powerful phones powered by ARMv6 processors were part of the extended support announced last September. Now that support has been extended to more popular older/slower smartphones including the: "Samsung Galaxy Next, HTC Aria, HTC Legend, Samsung Dart, Samsung Galaxy Pop and the Samsung Galaxy Q".
Bugs fixed
At least eleven security problems were fixed in Firefox 20. Three of those problems were flagged up as "critical vulnerabilities". You can read more about those fixes here.