A number of significant updates to beta versions of the Firefox browser have been rolled out in the last few days. The following three things are being tested; more ARM v6 support aimed at lower end handsets, a built-in cross-platform PDF viewer and, in the pre-beta build of Firefox (AKA Aurora) there is now a way to allow developers to use local webcams and microphones without third party plugins.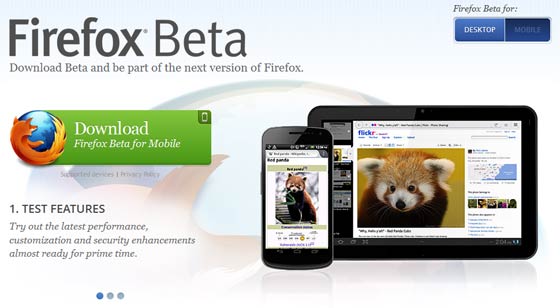 Extended ARMv6 support
We wrote in November about Mozilla dropping the spec required to download/install and use Firefox for Android. Previously only smartphones with ARMv7 or better processors could run the browser. The Mozilla blog said "Given that roughly half of the nearly 500 million Android phones in use today run on ARMv6 architecture, this is an important step toward making the open Web free to all" at the time. Now the minimum requirements have been made even lower, most notably the CPU speed requirement has been reduced from 800MHz to 600MHz. Newly embraced Android phones include "popular phones like the LG Optimus One, T-Mobile myTouch 3G slide, HTC Wildfire S and ZTE R750" says the recent Mozilla blog update. Get Firefox for Android here, find out more in the release notes.
Firefox Beta's "built-in, secure, PDF viewer".
The latest Firefox Beta features a built-in PDF viewer. The viewer is the fruit of a project called PDF.js which uses HTML5 and Javascript to render PDF documents within your browser, without any need for a third-party PDF viewing plugin. Mozilla says the viewer offers a "safer, more seamless cross-platform experience". The Mozilla developers have decided to replace the functionality of these plugins because "Many of these plugins come with proprietary closed source code that could potentially expose users to security vulnerabilities." Furthermore, the functionality seemed easy to replace as it is duplicated by built-in open-source code, "PDF viewing plugins also come with extra code to do many things that Firefox already does well with no proprietary code, such as drawing images and text." An added benefit of using standard HTML5 is the cross platform compatibility.
Capture local camera and microphone streams
getUserMedia (navigator.mozGetUserMedia, or even simply gUM) is another new function in testing to replace third party plugins using built-in functionality. "gUM is a new HTML5 DOM API that allows the browser to capture local camera and/or microphone streams directly, and not through third party plugins" says the Mozilla blog.

The blog explains the use of gUM to developers; "This means JavaScript developers can now quickly and easily write code to access the user's camera or microphones (with the user's permission, of course) without having to install anything because the support is already inside the browser." The gUM API is the first component of a future WebRTC which will enable "real-time, interactive, peer-to-peer audio/video calls and data sharing" and will make the web "even more incredible". You can have a poke about with gUM in the latest pre-Beta build of Firefox – Aurora 20 and test it out on this page.