Microsoft has announced today that Windows 7 has reached a milestone of 600 million licenses sold. Just four months ago, in February, the figure stood at 525 million licenses. Windows 7 was released in October 2009 and is currently the operating system on nearly 40 per cent of internet connected devices according to Microsoft figures. Windows XP still accounts for approximately 45 per cent of global market share.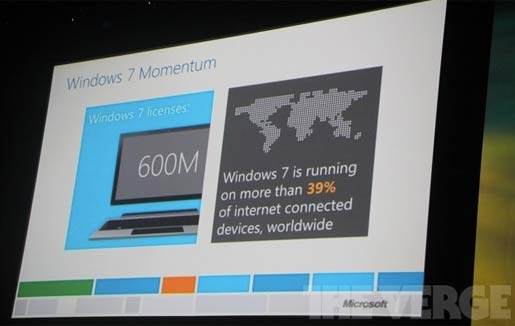 Speaking at the Computex ICT show in Taipei, Microsoft's Steve Guggenheimer updated us on Windows 7 sales figures while showing some new Windows 7 based devices. Most of the new Computex hardware we have been reporting on at HEXUS seems to feature the new Windows 8 OS with its very touch friendly Metro interface. Indeed The Verge reports that Mr. Guggenheimer went on to talk about the "massive wave" of software coming from Microsoft soon that will "delight customers". We suppose that includes Windows and Windows Server, Windows Azure, Skype, Bing, Office 15, Windows Phone 8 and Xbox software.
Often when a new updated piece of software is about to come out the previous versions sales can suffer, as users decide to simply wait for the latest and greatest. Microsoft has now started an update scheme to combat this tendency – the $15 upgrade offer. However Windows 7 demand has shown no sign of reaching a plateau, the latest figures showing 75 million license sales since February. The big changes in Windows 8 and its focus on the touch friendly Metro interface are not entirely welcome with many traditional Windows PC users which is probably another factor in the lack of slow-down in Windows 7 sales.