A promotion available to buyers of new PCs is due to start on 2nd June according to sources quoted on WinSuperSite.com. People buying new PCs with Windows 7 installed will be eligible to buy an upgrade to Windows 8 Pro for a fee of $14.99 in the US, no prices for other regions have been unveiled.
Low price or free upgrades have traditionally been available from Microsoft in the run up to a new operating system version launch. The tactic is often used to prevent a PC sales drought while users put off upgrading their PCs for an extra few months until the new Windows version is released.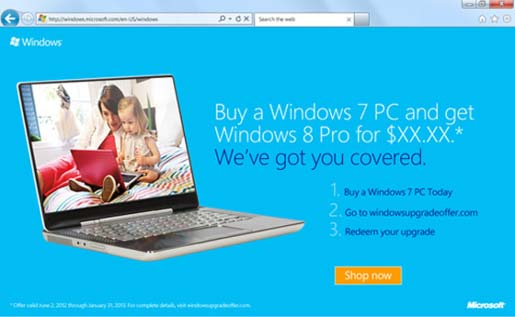 Upgrade offer slide from cnet, XX.XX price revealed as $14.99 by WinSuperSite.
Those with Windows 7 Starter, Home Basic and Premium will be eligible to upgrade to either Windows 8 Consumer or Professional while Windows 7 Professional Ultimate users will be offered the upgrade to Windows 8 Pro only. While this slide shows that a paid for update (to Windows 8 Pro) will be available it doesn't say that there won't be any free updates available. If a Windows 7 Starter user can upgrade to Windows 8 Pro for $15 then it would be logical for a customer with a new Windows 7 Professional Ultimate PC to get the same update for less or even for free.
Windows 8 is due to be launched in the Autumn of this year and be accompanied by the launch of a significant amount of new hardware, such as new generation Ultrabooks and tablets, utilising its new touch friendly interface features. The promotion, starting on 2nd June and ending in January 2013 will help keep sales of PC going up to this launch time which will be after the important back-to-school season.