Apparently, there are Firefox plugins lurking on your computer that you may not know about, and Asa Dotzler isn't happy about it.
The outspoken Firefox developer and director of community development for Mozilla recently discovered that a number of programs had installed plugins that he hadn't asked for. These included updaters from RockMelt and Google - which as far as we can tell is installed by Chrome - and helpers for iTunes, Microsoft Office and Windows Live Photo Gallery, none of which had asked the user for explicit permission prior to installation. Worse, it wasn't clear what these plugins actually did or what purpose they served for the end user.
Dotzler's objection wasn't just the fact that the plugins were there in the first place, but that the associated software hadn't asked for the user's consent. He was astounded that it had become common practice to slip these extra components onto a computer without any sort of permission in a way that he likened to a Trojan horse and called "sneaky, underhanded, and wrong".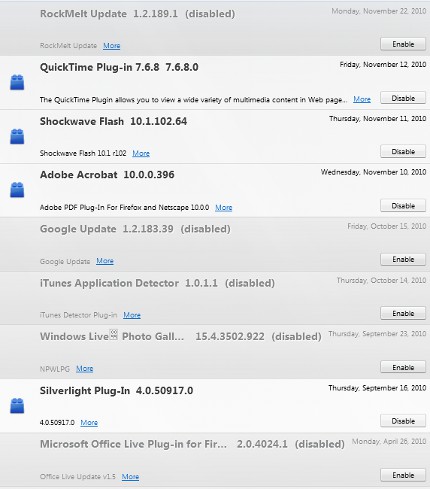 He commented that, "these vendors should stop this behaviour and let Mozilla and other software organizations focus on more important usability issues than combating their evil behaviour."
"Microsoft, stop being evil. Apple, stop being evil. Google, stop being evil. And you upstarts like RockMelt, don't follow in those evil footsteps. It's not worth it. It's really simple. ASK first!"
Obviously these plugins can easily be disabled, and Dotzler admits that the Firefox team could do more to help users deal with these sorts of add-ons. However, his point is that the developers shouldn't have to, which would give them more time to work on making a better browser.