When Valve launched Steam for OSX in May, it opened the door for Mac gaming in a big way. Now, three months later, it looks like the Apple-faithful have fully embraced the service, accounting for over five per cent of its users.
The latest statistics also show that over two-thirds of the Mac users on Steam own a Mac Book or Mac Book Pro, while only 23 per cent are gaming on an iMac.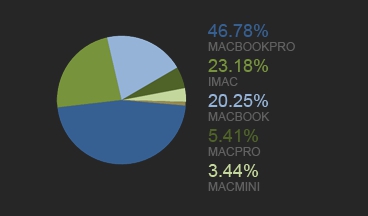 On the PC side of things, Intel clearly still rules the roost when it comes to CPUs with over 72% of users owning one of the company's processors. As for GPUs, NVIDIA commands a significant majority of the market, providing the graphics-cards in almost 60 per cent of the surveyed PCs. ATI cards make up approximately a third of the remaining users with Intel's IGPs representing around six per cent of the Steam community. However, the Radeon 4800-series are still the most popular GPUs, being present in over seven per cent of systems.
While Microsoft may have been touting the success of Windows 7 lately, the 32-bit version of XP is still the most popular OS on Steam - though not by a lot. The survey shows that 32.73 per cent of users were still using the nine year-old OS, compared with 28.24 per cent for Windows 7 64-bit. However, combining both versions of the newer OS puts it on more than 40 per cent of PCs, compared to only 33.29 per cent for XP. Unsurprisingly, Windows 7's share increased this month at the expense of Microsoft's older operating systems.
For those who want to delve a little deeper into the statistics, the full breakdown is available on the Steam Hardware Survey page.