This time last week, a close examination of the Windows 7 software license terms revealed that Microsoft's forthcoming operating system could be offered as a Family Pack, providing consumers with a three-system license.
Sounds like a logical step forward, and though we've still no confirmation of the product from Microsoft, the Windows 7 Family Pack has begun to crop up at certain online retailers.
eCOST.com, a US-based retailer, currently lists the product with manufacturer code GFC-00236. According to the listing, the three-license Family Pack will be priced at $144.99.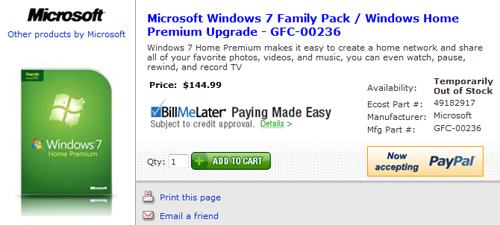 Should the pricing prove accurate, the Windows 7 Family Pack will provide home consumers with a cheaper method of getting Windows 7 on multiple systems.
Microsoft announced late last month that US customers would be paying $119.99 for a single copy of Windows 7 Home Premium Upgrade. We've got to take the Family Pack's above-listed price with a pinch of salt, but an additional $25 for two extra home-user licenses sounds very promising.
We've yet to see any UK listings, but we've still got our fingers crossed for a £99.99 Family Pack.