High performance PC memory, and gaming peripherals, specialist G.SKILL has launched a new range of Trident Z DDR4 'Extreme Speed' memory kits. There have been several new kits announced today with the headlining example offering frequencies of 4266MHz, thanks to its component 8GBx2 CL 19-23-23-43 DDR4 DIMM modules.

In an email to HEXUS, G.SKILL said it thought that its new Trident Z DDR4 kits would appeal to PC enthusiasts, extreme gamers, and overclockers on the hunt for the ultimate in memory speeds, as well as those working in demanding professional applications. These newly released kits are built with Samsung DDR4 8Gb ICs and are available in the configurations as shown in the table below.

You can see above that there is only one kit right now that offers frequencies as high as 4266MHz, and that is a 16GB kit. Moving down a peg or two in memory clock frequencies there are many more kits available ranging from 16GB (8GBx2) up to 64GB (16GBx4). The fastest of these higher capacity kits is rated at 3466MHz with CL 14-14-14-34 modules but there is a slightly slower, and we would assume cheaper, set of Trident Z DDR4 kits which peak at 3200MHz.
As you will probably be aware these DDR4 kits are specially designed to make the most of Intel's Skylake processors and Z170 chipset motherboards. G.SKILL says its headlining 4266MHz kit was validated using a ASUS ROG MAXIMUS VIII IMPACT motherboard, and you can see the relevant screen-grab embedded below.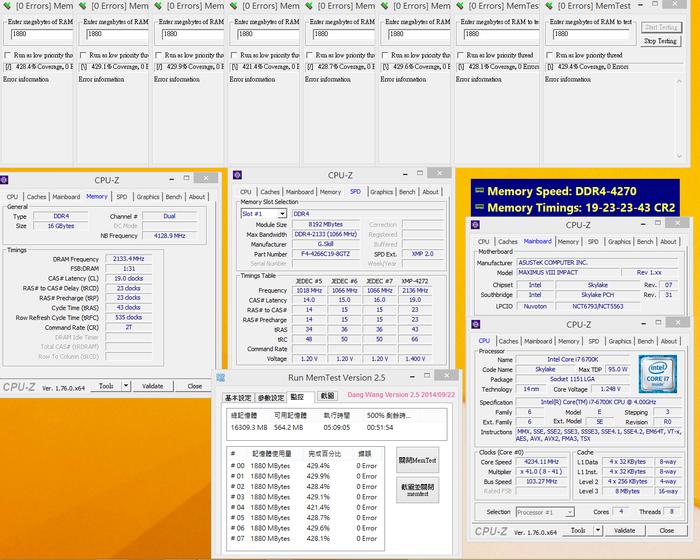 Click to zoom image
G.SKILL hasn't sent us pricing for the kits but we do know that they will start to become available from distributors in June. At the time of writing an official product page for the fastest kit has yet to be published. PC enthusiasts may be happy to know that the kits will be made available in the recently announced new expanded colour ranges.