Today, high performance memory designer and manufacturer G.SKILL announced a new performance pushing Ripjaws memory kit aimed at laptops. It's the firms fastest SO-DIMM memory kit yet, rated "up to a staggering 2,133MHz," and operates at the low voltage of 1.35V. G.SKILL claims its new DDR3L SO-DIMM memory kit, the F3-2133C11D-8GRSL, will provide a performance boost to your system, extend its battery life and generate less wasted heat.

Feel the speed, not the heat
G.SKILL heralds the new memory kit, exclaiming "Speed Matters! Get Better Productivity With Ripjaws SO-DIMM!" The firm says that "Whether you are gaming, programming, multimedia editing or just surfing the web, you will feel the speed improve instantly!" Furthermore a F3-2133C11D-8GRSL upgrade for your laptop "is one of the smartest and most cost-effective ways to enhance your productivity and computing experience," according to G.SKILL's official blurb.
Key specifications
Series: Ripjaws SO-DIMM
Memory Type: DDR3
Form Factor: SO-DIMM
Channel Config: Dual-channel
Capacity: 8GB (4GBx2)
Tested Speed: 2,133MHz
CAS Latency: 11-11-11-36
Voltage: 1.35v
Heat Spreader: No
Warranty: Lifetime
G.SKILL has made this new Ripjaws SO-DIMM to match the specification required by the latest 4th generation Intel Haswell laptop systems sporting i5 and i7 chips. On compatible systems the memory is Plug and Play and your system will detect the rated memory speed automatically, and make use of it, without you having to fiddle inside the BIOS setup with memory speed and voltage settings.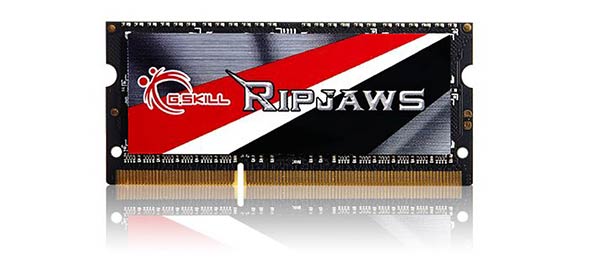 The extra speed and low voltage offered by these SO-DIMMs could also be attractive to some desktop PC (usually SFF and AiO PCs) owners whose systems utilise these more compact memory chips. As an example G.SKILL validated its F3-2133C11D-8GRSL kit with an Intel NUC D53427RKE Ivy Bridge Core i5 model.