OCZ, the Sunnyvale California-based memory specialist, has today announced the launch of its P45 Special DDR2 memory kits for high-performance PCs.
The memory offers a module density optimised specifically for Intel's P45 chipset, and is being marketed as the ideal upgrade for Windows Vista users.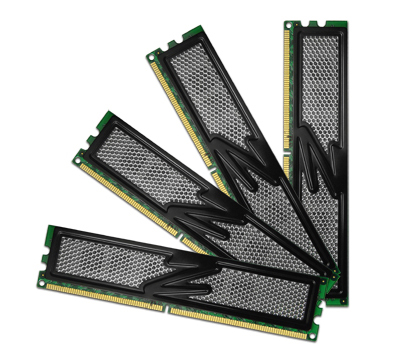 Vista, Microsoft's flagship operating system, is commonly known to require a fair amount of system memory, and two of the OCZ solutions on offer are the 8GB (2x4GB) and 16GB (4x4GB) Vista Upgrade kits.
Although far in excess of Microsoft's listed minimum system requirements, 64-bit users can take advantage of large amounts of memory and OCZ claims its solutions to be ideal for "Graphic designers, CAD engineers, and music and video editing professionals."
Dr. Michael Schuette, vice president of technology development at OCZ, said:
64-bit operating systems are becoming more mainstream and finally enable user memory to shed the 2GB limitation of 32-bit OS. Moreover, the latest multi-core systems are capable of simultaneous execution of highly complex workloads, each commanding its own virtual memory space. In that scenario, the only way of avoiding data collision without writing back to the hard disk is the migration toward super-high memory densities.
In addition to the Vista Upgrade kits, OCZ is also offering special-edition low-latency Platinum and Gold 8GB kits for the gaming market. There's no word on pricing just yet, but if you're looking for an ample bump in system memory, take a look at the official product pages:
OCZ PC2-6400 Platinum 8GB (2x4GB) Kit CL5-4-4-15 @ 1.8V
OCZ PC2-6400 Gold 8GB (2x4GB) Kit CL5-5-5-15 @ 1.8V
OCZ PC2-6400 Vista Upgrade 8GB (2x4GB) Kit CL5-6-6-18 @ 1.8V
OCZ PC2-6400 Vista Upgrade 16GB (4x4GB) Quad Kit CL5-6-6-18 @ 1.8V
Official press release: OCZ Technology Introduces the first P45 Special 8GB and 16GB memory kits optimized for high performance PCs