Gigabyte has launched its second generation Aorus RGB Memory kits. The Taiwanese computers and components firm touts its latest Aorus RGB Memory 16GB 3600MHz kits (2 x 8GB models) as offering both "superior performance and upgraded LED modules". The kits carry on being optionally accompanied by 2x dummy RGB modules to fully populate the target system's typical 4x DIMM slots.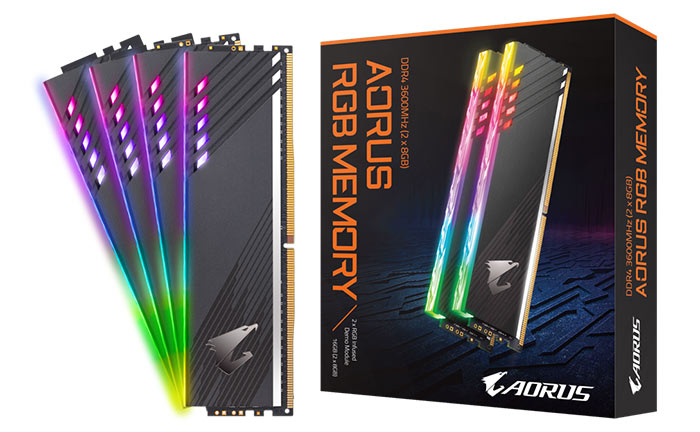 Kit option with two 'demo modules' shown
To recap on the prior offering you can head on over to the HEXUS review of the first gen Aorus RGB Memory 16GB DDR4-3200 (GP-AR32C16S8K2SU416R) kit. This reviewed kit offered DDR4-3,200 speeds and 16-18-18-38 timings allied to the usual enthusiast-level 1.35V. A HEXUS approved award was given to the memory kit thanks to the quality construction, appealing light diffusion, and use of Samsung B-die ICs but we thought the kit was literally outshone by Corsair RGB memory modules that had been in the labs previously.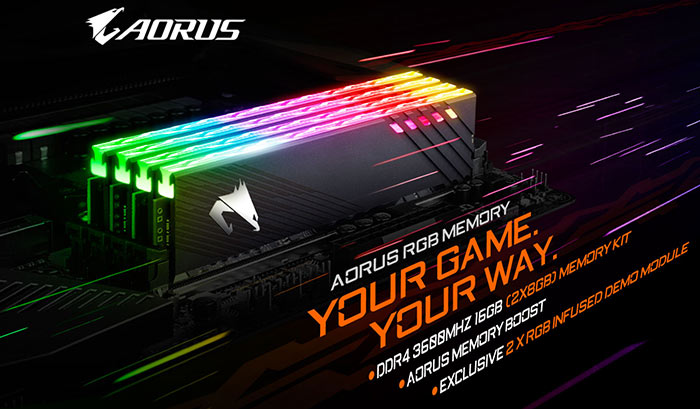 Gigabyte's new modules run at DDR4 3600, however one must note the timings of 18-19-19-39, with greater latency. Doing my sums (using clock speed and CAS latency figures) it seems like the real-world latency of these modules is very similar to their predecessors - about 10ns. Gigabyte mentions that performance can be improved further. On Aorus Z390, X570 motherboards, and XMP enabled on the new BIOS, "users can activate the Memory Boost function and boost their memory frequencies to 3733 MHz without tweaking the timing," it says. That is about a 4 per cent uplift in memory read/write performance.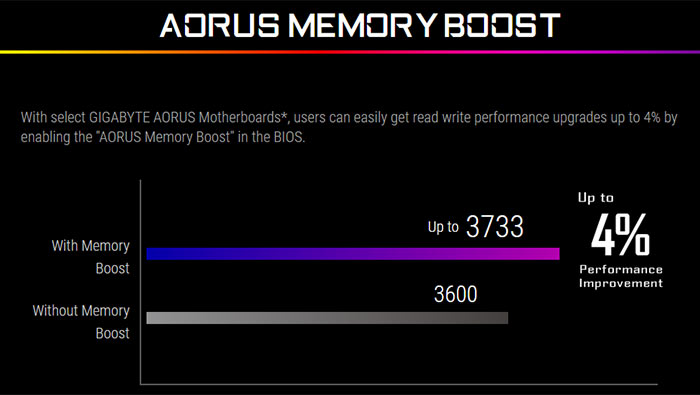 Moving onto the lighting improvements claims, Gigabyte says the new modules (and dummies) include a greater number of built-in RGB LEDs. In our review of the first gen parts we noted that five RGB LEDs were situated behind the memory module diffusers. Second gen modules have 12 RGB LEDs "for a more fluid and robust lighting display". Furthermore, the new modules carry over the light modes from the previous gen and add a "new Wave2 rainbow lighting effect," that can sync with other components. Lighting is controlled by the Gigabyte RGB Fusion app.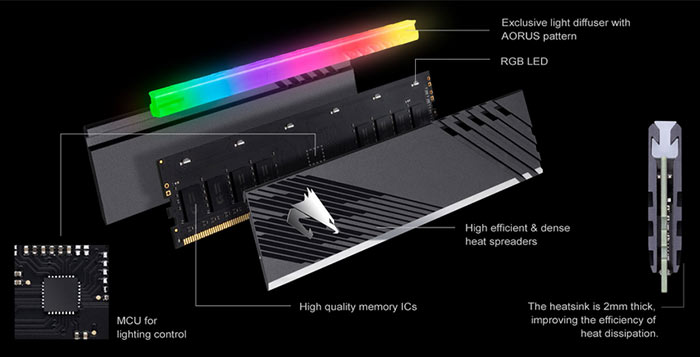 Gigabyte says the new second generation Aorus RGB Memory kits will be available soon. For a guide, the previous gen 16GB DDR4-3200 kits including two 'demo modules' currently sell for about £130, so you will pay a premium to this price.