Performance PC memory and gaming peripherals specialist G.Skill has written to HEXUS with details about its latest "extreme low-latency, high-speed DDR4 memory kits". The firm has started to validate RGB-enabled Trident Z Royal, and classic Trident Z, DDR4-4000 32GB (8GB x4) memory kits with CL15-16-16-36 timings.

We are told that the new 8GB x4 kits utilise select Samsung B-die ICs to achieve their fast clock speeds and "extreme low latencies". G.Skill points out that its previous best 4,000Mhz 32GB memory kits, for low latency, offered CL17 timings. You can see, for example, the F4-4000C17Q-32GTRS Trident Z Royal DDR4-4000MHz CL17-17-17-37 1.35V 32GB (8GB x4) kit here - it also sells CL18 kits of the same type/speed.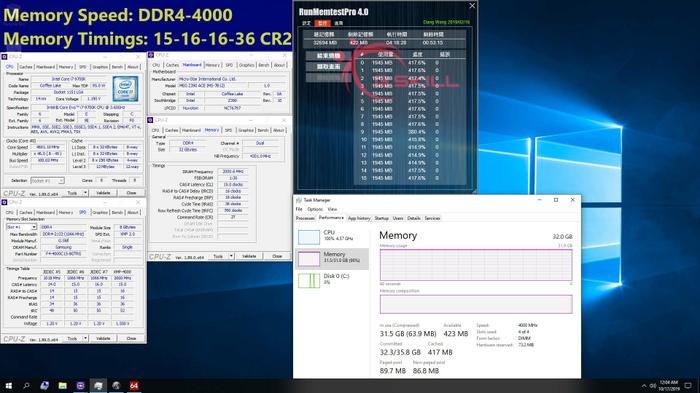 Validation of the new DDR4-4000 memory kits at CL15 and 1.5V has been done on a system built upon an MSI MEG Z390 Ace motherboard and Intel Core i7-9700K processor, as you can see in the screenshot above. Meanwhile, if you are an AMD user you might be more interested in the potential for performance boosts with one of the latest Ryzen processors. Below you can see a screenshot of AIDA64 testing memory bandwidth on a PC system built upon an MSI X570 Unify motherboard and the AMD Ryzen 9 3900X processor.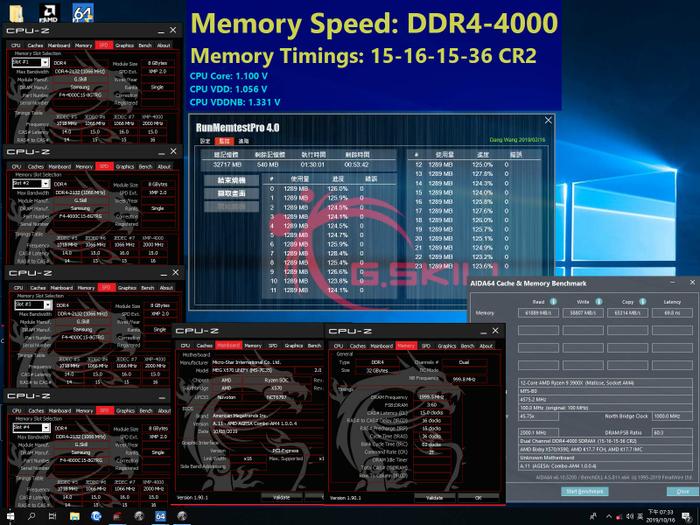 G.Skill's testers assert that the above system with paired with a popular DDR4-3200 CL14 kit would deliver around 50GB/s for memory read bandwidth in AIDA64. "With the new ultra-efficient DDR4-4000 CL15 memory kit, the memory read bandwidth breaks 61GB/s in AIDA64 with a few additional tweaks, along with over 58GB/s in memory write and 65GB/s in memory copy bandwidth speed," G.Skill wrote in its email. Check out the evidence of this in the screenshot above.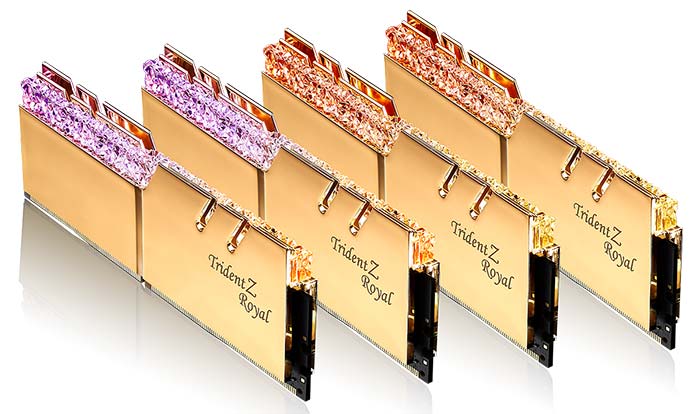 The new Trident Z (Classic and Royal) 32GB (8GB x4) memory kits offer Intel XMP 2.0 support for easy overclocking.
If you are interested in pricing and availability, we have been told that G.Skill will start to distribute these Extreme Low Latency 32GB memory kits from Q4 this year. Pricing details haven't been shared and no web links to product pages are live at the time of writing.