PC memory and peripherals specialist G.Skill has released some new faster DDR4 memory kits, timed to coincide with the launch of desktop Intel Kaby Lake processors and 200-series motherboards.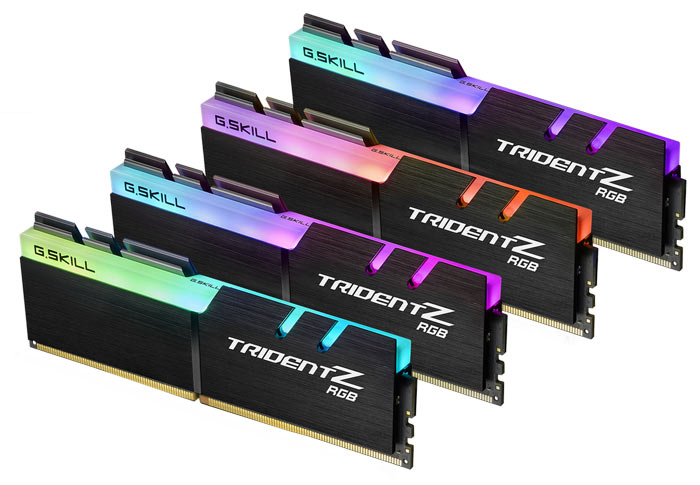 The new memory kits are part of G.Skill's Trident range, they look like they are based upon the recently released Trident Z RGB modules. G.Skill says there is increasing demand for kits of 16GB and 32GB in size so it has prepared fast new kits in these capacities. The speedy new Kaby Lake and Z270 inspired kits are as follows:
16GB (8GBx2) Kit - DDR4-4266 CL19-19-19-39 (1.4V): G.Skill says it has managed to achieve a 4266MHz headline memory speed without sacrificing CL timings. Please check out the test validation screenshot, below left, from a system equipped with an Asus ROG Maximus IX Apex motherboard and Intel Core i7-7700K processor.
32GB (8GBx4) Kit - DDR4-4133 CL19-21-21-41 (1.35V): Increasing memory capacity makes it more difficult to achieve the best speeds. However, G.Skill claims it has leveraged its "decades of experience," to ready 8GBx4 kits that can achieve DDR4-4133MHz. Again it has prepared a screenshot as the proof of the pudding, which you can find below. Note that G.Skill tech bods did their testing on a system equipped with an Asus ROG Maximus IX Formula motherboard and Intel Core i5-7600K processor. Please check out the test validation screenshot above, right.

Record breaking
Alongside the above announcements, G.Skill is happy to relay the news that its memory has been used to break a total of 8 world records and 21 global first place records in the short time since the launch of Intel's 7th Gen Intel Core processors for desktop PCs. You can head on over to see the benchmark record breaker table at HWbot.