Is sir a proud owner of a 30in panel that's capable of QWXGA resolution (2560x1600)?

And is sir suitably proud of the purchase and likely to diligently inform all and sundry about the 4MP resolution?

Well, the folks at iEi might take the smile off sir's face.

The company showcased a medical-grade monitor, the MMD-5201M, that provides a 5MP (2560x2048) resolution in a 20.1in panel - run off a dual-link DVI connection.

That's some pixel pitch, folks and designed to bring out the last ounce of detail in, say, X-rays. So don't expect its 30ms response time to be much cop when gaming.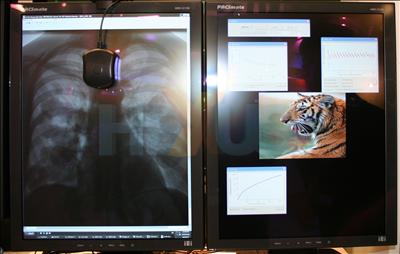 Even iEi's MMD-3212 monitors, pictured above, are capable of 10-bit colour (bbc) production and offer staggering resolutions and auto-calibration in small footprints.

On a more serious note, COMPUTEX isn't just about consumer hardware and homogeneous USB devices. A significant portion is dedicated to industrial equipment with immediately tangible benefits.

iEi sells to the likes of GE and Philips, who rebrand and charge their own customers twice as much as the $7,500 asking price for the 5MP model.