AMD has announced that it will be collaborating with MStar, Novatek and Realtek to build the scaler units required by monitors which will offer DisplayPort Adaptive-Sync and AMD Project FreeSync compatibility. AMD Project FreeSync is the red team's "licensing-free solution to stuttering and tearing in PC games". In contrast to Nvidia's G-SYNC it doesn't require proprietary licensed hardware in your monitor. AMD says that FreeSync also has the benefit of no communication overhead as it "does not need to poll or wait on the display in order to determine when it's safe to send the next frame to the monitor".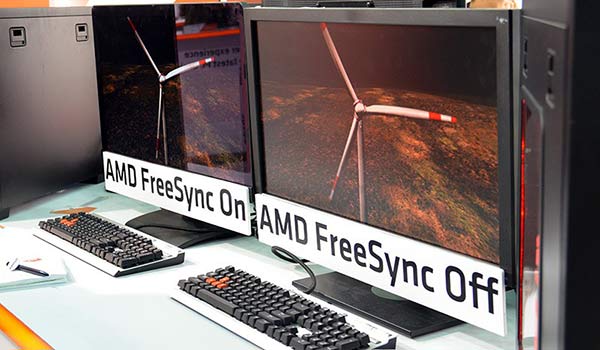 We saw FreeSync demonstrated at Computex in June and since then we've been waiting for a timescale or availability announcement. At that time we were told that FreeSync support was already built-into several Radeon products and we would see the monitors compatible with the technology "soon". Now that AMD has partnered with the above named scaler unit manufacturers a broad availability target has been set for Q1 2015. That is the date from which you will start to see DisplayPort Adaptive-Sync and AMD Project FreeSync compatible monitors emerge. The scaler component will be available to monitor manufacturers "by year end". When the monitors do arrive we should notice "lower prices and wider adoption," than similar rival gaming monitor tech, according to AMD CVP of Graphics Business Unit Matt Skynner.
Yee-Wei Huang, vice president at Realtek, said that customers in the channel are "really excited about AMD's FreeSync technology" and he asserted that "adopting the DisplayPort Adaptive-Sync industry standard by VESA is the best approach," to provide smoother stutter-free gameplay for wide range of end users.
The first crop of FreeSync monitors with compatible scalers from MStar, Novatek and Realtek will be FHD and QHD panels up to 144Hz, or UHD panels up to 60Hz. Beyond the headlining refresh rate sync abiliity, features such as picture scaling, on-screen display (OSD), HDMI/DVI inputs for legacy users and DisplayPort High Bit Rate Audio are all supported by the new monitor scaler hardware.