ViewSonic today unveiled a new gaming monitor, called the VG2401mh. This is a 24-inch monitor that ViewSonic is aiming squarely at the gaming market. The key specifications of the VG2401mh include; a 1920 x 1080p resolution TFT display panel with anti-glare coating, a 1ms Gdelta response time and a rapid 144Hz refresh rate.
The VG2401mh's 1ms response and 144Hz refresh should help gamers enjoy "ultra-smooth graphics and lag-free, crisp images for extreme moments of game play," says ViewSonic. The firm adds that these qualities are also beneficial for watching fast action video and other multimedia entertainment.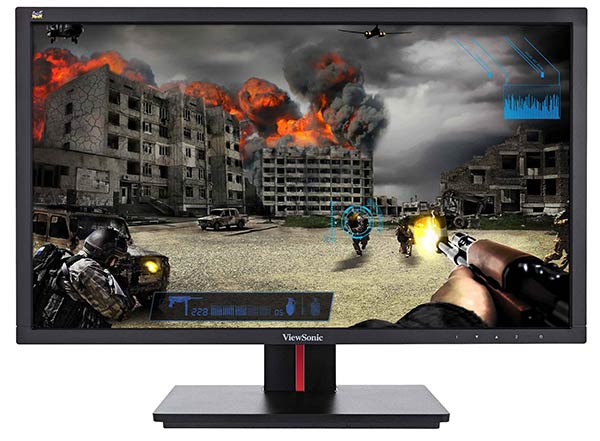 Claire Chuang, Monitor Product Manager at ViewSonic Europe said "We are very excited to launch our high-performance gaming monitor, the VG2401mh. Perfect for both professional and casual gamers, we developed this monitor after noticing a growing demand within the gaming industry for a monitor not only to enhance the visual experience during game play, but also to provide a competitive edge to gamers". Chuang added that ViewSonic has implemented 'Game Mode' technology in this monitor that aims to help gamers become more competitive.
ViewSonic's Game Mode tech has dual facets and is pretty similar to other rival tech employed in gaming monitors. Firstly ViewSonic provides monitor modes to enhance visibility and detail by brightening darker scenes – this sounds like a simple gamma or mid level image processing shift. Another gaming feature called 'Aimpoint' provides on-screen crosshairs to improve pointing gamer targeting accuracy.

Other monitor technologies, not focussed upon game playing enhancements but still beneficial overall, include ViewSonic's own Flicker-Free Technology and Blue Light Filter, to help reduce user eye fatigue.
The ViewSonic VG2401mh offers a good range of ports including DVI x1, DP x1, HDMI x2. It has built-in stereo speakers (3W x2), audio I/O and two USB 3.0 ports. Users can adjust the monitor on its stand by 120mm, 90 degrees rotation, 120 degrees swivel and +20 to -5 degrees of tilting. If you have your own mount/stand you can use that, as the VG2104mh has a 100mm VESA mount. If you are interested in findout out more details about this monitor you can find a full specification list here.
In an email to HEXUS ViewSonic said that the VG2401mh will be available in retail from October and it will be have a recommended retail price of £249, €279, US$399 (including VAT). Buyers benefit from ViewSonic's 3 year swap out warranty.