It's kind of big, and it's kind of lovely.
Samsung is showcasing its direct competitor to Dell and Apple's extra-large LCD displays. In keeping with Samsung naming convention, the new model is designated 305T and bears a striking resemblance to Dell's two-month-old display, and the similarities extend to more than just a similar-looking chassis.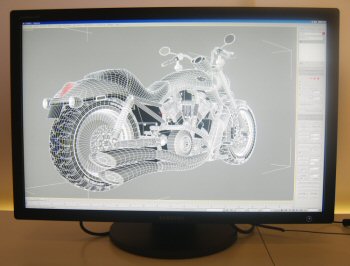 What's different, however, is the in the WQXGA-capable panel (2560x1600) used inside the monster chassis. Samsung uses its proven S-PVA technology, rather than the LG-made panel used by Dell, to endow the 305T with an extra-wide viewing angle, quoted as 178-degrees on both the horizontal and vertical axis.

Samsung quotes an impressive grey-to-grey response time of just 6ms, beating out the Dell's 12ms. Panel brightness is quoted 400 cd/m2 and contrast at 1000:1. Most prospective buyers will be nonplussed at Samsung's use of an single DVI-D input, following Dell's lead by providing no other connectivity. There will be 4 USB2.0 ports built into the casing, although, according to Samsung representatives, there will be no HDCP support.

Apple and, lately, Dell have ruled the 30-inch ultra-high resolution LCD market. They will now have stiff competition from one of the largest panel manufacturers in the world. Users will have to wait until June, at the very earliest, before the 305T appears in the retail channel.

Samsung is also introducing an updated range of 24-inch widescreen LCDs. The 244T and 245T S-PVA-based models will be offered in WUXGA resolution (1920x1200) and both models will support a wide range of inputs, including D-Sub, Component, S-Video, and DVI-D. A 6ms grey-to-grey response time and above-average brightness and contrast ratios will make both obvious competitors to Dell's superb, ubiquitous 2405FPW.