Dell has finally gotten round to bringing its eagerly-anticipated UltraSharp U2711 widescreen display to retail.
The high end 27in monitor, pictured below, was first revealed at the tail end of 2009 with early previews lavishing praise on the screen's performance credentials.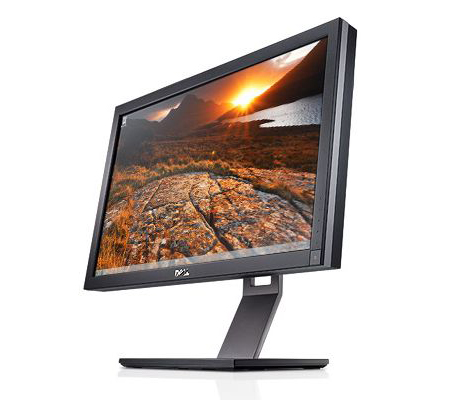 Offering a massive WQHD 2,560x1,440 resolution, the U2711 is likely to act as a single substitute for multi-monitor setups and promises a "best-in-class" viewing experience.
In addition to its mammoth resolution, the display makes use of an IPS (In-Plane Switching) panel with 12-bit internal colour processing, allowing it to reproduce over one billion colours. Add 350 nits of brightness, 178° viewing angles and a height-adjustable tilt/swivel stand, and you're looking at arguably one of the very best professional 27in monitors.
Connectivity is ample, too, with the U2711 sporting a pair of DVI inputs, along with HDMI, VGA, Composite and DisplayPort. There's also a connector for a Dell Sound Bar, multi-channel audio output for external 5.1 speakers, an eight-in-one card reader and four USB ports.
Having recently made the transition from Dell's 30in 3007WFP to a more power-friendly 24in G2410, I can attest to the value of a high-quality display. The UltraSharp U2711, at £1,007, is way beyond this author's reach, but if you've got the cash, Dell UK is now taking orders and expects the UltraSharp U2711 to ship within 5-7 days.